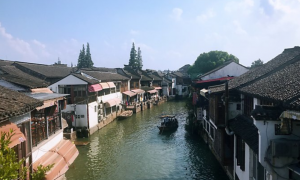 There are many ancient towns in Jiangnan, most of which are similar. The scenic spot of Zhujiajiao Ancient Town is a standard Jiangnan water town scene. The bridges are full of people, and when you have nothing to do, you can take a visit there casually, as it is quite good to eat farmhouse food by the river.
Zhujiajiao's commercial atmosphere is very rich, don't think it is the kind of one-size-fits-all. After all, here is the bustling commercial land in ancient times, and there are also many places of interest. It is worthy of being selected as one of the 50 most beautiful ancient towns in China. Looking at the golden sunshine in the morning, it is quietly sprinkled on the North Xijing River in Zhujiajiao. The river is green and makes people feel a special kindness and warmth.
Zhujiajiao is completely like a Jiangnan water town. It is said to be very similar to Zhouzhuang. It is smaller than Wuzhen Town, but it is also more delicate. According to the instruction of the tour guide, Zhujiajiao is one of the four historical and cultural towns in Shanghai. You can sense from the temperament there. The facilities and business order of the scenic spot are still relatively in place.
The ancient town specialties such as oily fat, fresh meat dumplings are delicious, and if you have not eaten before, you must have a taste. For the lunch, you can taste the braised pork with the scallions, which is really crisp and delicious and not greasy. The ancient town also has a variety of beautifully packaged flower glutinous rice wines. The degree is not high, but the aroma is charming.
It is said that there are still 20,000 families living in the ancient town. The inheritance of generations makes them have to get used to being companions with all kinds of tourists. What kind of experience will it be for a daily bustling lifestyle? Maybe you can explore more at Zhujiajiao Water Town.