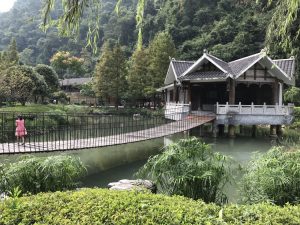 As an organic part of the world's natural heritage and the world's geological park Zhangjiajie, Huanglong Cave is located in the core scenic spot. It is a typical karst landform and one of Zhangjiajie's tourist boutiques. It enjoys the reputation of a worldly wonder. Huanglong Cave is now open to the Dragon Dance Hall, Xiangshui River, Tianxian Water, Tianzhu Street, Dragon Palace, Maze, Huaguoshan and other tourist areas. These scenic spots are closely linked and each has its own characteristics. There are holes in the cave of Huanglong Cave. There is a river in the cave too. The stalagmites, stone pillars, stone flowers, stone sarcophagi, stone branches, stone pipes, stone pearls, stone corals and other caves wonders are all formed by the condensation of calcareous solution and you can see them here and there inside the cave, which are so dazzling, like a magical underground.
Huanglong Cave has super-large cave sky, deep dark rivers, suspended waterfalls, dense stalagmites and other special tourism resources, with high ornamental value and scientific research value. Because of its "largest scale, the most comprehensive content, the most beautiful scenery", it is recognized as the "all-round champion" of the world's caves by the authoritative person of Chinese and foreign in the geological circles. Stalagmites in Huanglong Cave really are beautiful.
"Maze" is the boutique attraction of the Huanglong Cave. It is located at the bottom of the Huanglong Cave. And it will be separately charged, 15 yuan / person, but it is strongly recommended to view it, as this is the essence of the entire Huanglong Cave. There are many types of stalactites in the cave, and the landscape is extremely concentrated. The white crystal stalactites, stalagmites, stone pillars, stone scorpions, stone flowers, curly stones, stone pearls, stone corals and so on are exquisite.
Special Notes:
Visiting cave needs imagination, and the decoration of lighting. Visitors need to be psychologically prepared.
The temperature inside the cave is low, especially in the middle of the river. Even if you are going in the summer, it is best to bring a jacket.
There are a lot of induction lights for lighting in the cave. When the lights are off, just don't worry about it.