The Zhangjiajie Scenic Area is a 5A-level scenic spot that is not closed all year round. The four seasons are very obvious. The annual average temperature there is only 16-28 °C, the rainfall is also very abundant, and the air quality is very good.
The spring is full of vibrant scenes, birds and flowers, even the stone pillars are filled with green life (this is all year round). Everywhere, the sound of the kingfisher is accompanied by a strong mountain atmosphere, and you can feel relaxed and breathe smoothly!
The summer temperature is suitable, there is the ideal world to escape the heat, there are sweet springs, there are crisp bird sounds, everywhere are filled with the fragrance of mountain flowers. In the early morning, when entering the forest path, it is a fresh feeling that break into the heart, and the cells above and below the body are awakened at this moment.
The autumn leaves are full of red leaves, and there are wild fruits of the mountains: kiwi, chestnut, wild pear, wild persimmon, wild lychee etc. Perhaps at all the other places what you can see is the yellow leaves and the bare branches. The pinnacles here is a "green life" full of vitality.
If you are lucky enough to touch the snow in the winter, the mountains, woods and houses will be covered with the silver makeup given by nature. The rolling hills in the distance are like a silver snake, hovering from the bottom to the distance.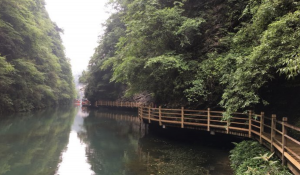 Tickets for the Zhangjiajie Grand Canyon are 148 yuan. The scenery all the way is very good, especially the water is very green, the winding path is quiet, like the refreshing wind in the mountains. The Shenquan Lake, dotted with the Grand Canyon, shows a kind of smart beauty. The first stop after you enter the scenic spot is to the glass bridge, which is spectacular! After visiting the glass bridge, you can visit the Grand Canyon area. The scenery is charming. When you walk to the end of the road, you will leave by boat and experience a perfect trip.