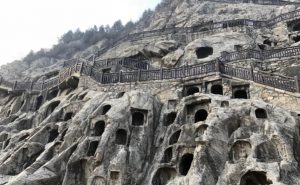 There is no need to wait after you enter into the ticketing hall as you can buy the ticket directly. The fare is 100 yuan, including Xishan Grottoes, Dongshan Grottoes, Xiangshan Temple and Baiyuan. From the northwest gate to the scenic spot, you can only tour in this order. Every time you enter a scenic spot, you must mark a hole on the ticket. And you must not enter and exit twice.
Opposite the ticketing hall is the visitor center. You can store your luggage for free. If you put your luggage here, you need to go back to the northwest gate through the Longmen Bridge after you finish viewing the Baiyuan. (You have to walk 20 minutes in this section, you can also spend 10 yuan on the battery car.) If there is no baggage or the baggage is not heavy, there is no need to store it. After visiting the Baiyuan, you can take the bus or take a taxi directly near the northeast gate. However, there is only one bus in the Northeast Gate, namely K81, the end point is Luoyang Station, not the Longmen High-speed Railway Station; while there are more buses from the Northwest Gate back to the city, but there is no normal direct access to the Longmen High-speed Railway Station.
Therefore, if you want to go to the Longmen high-speed rail, please ignore the bus, or change the bus. As for the No.67 (now the No.167) and the No.71 buses seem to be the sightseeing car, and according to the Luoyang bus online information about these two bus lines, there are only one car per line, and the interval between departures is 120 minutes, so if you are not so lucky, you may wait for two hours.
From the ticketing hall to the newly renovated stone gate (check-in office), it takes more than ten minutes to walk. There are several small shops on the right-hand side to provide breakfast. And the mineral water costs 2 Yuan/bottle.