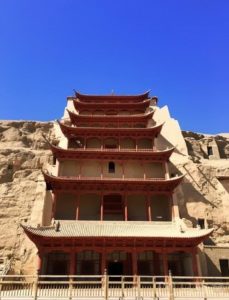 As a world-famous grotto art treasure, Mogao Caves has become the most popular attraction on the Gansu Tourism Line. It is normal to buy the ticket difficultly during the peak season. In order to deal with the flow of people, Mogao Cave has adopted a special ticketing method. In order to buy the tickets, you should check a lot of travel guides on the Internet, and here are some experiences that may be helpful for you to buy the tickets:
1. There are two kinds of tickets for Mogao Caves: the reservation ticket and the emergency ticket. The former is sold 30 days in advance and can be purchased online. The latter is sold three days in advance. The previous emergency ticket was only purchased on-site at the Dunhuang City Ticket Office or the Mogao Grottoes Digital Display Center, but it can now be purchased locally through the WeChat applet. In addition, it is said that virtual location can also be used to obtain emergency tickets in other places.
2. Emergency tickets are super popular, you often need to queue in the middle of the night to buy the ticket. The reservation ticket is relatively better. After all, many people can't decide the itinerary one month in advance. However, some people thought that it would not be so urgent to buy the reservation ticket. However, the ticket is for sale at 9:00 a.m. and you will find that the tickets at 8:00 a.m. and 8:30 a.m. are sold out and only a dozen of them are left at 9:00 a.m. So, you must buy the tickets fast and fast, after all, there are opportunities for refunds and changes.
3. Everyone who buys Mogao Grottoes tickets are preferred to take the trip there in the morning, because the Mogao Caves is sitting west to the east, the light inside the caves in the morning is better, and the temperature is lower in the morning, as sometimes it can reach nearly forty degrees at noon. It is also because the ticket sales in the afternoon are slow, so many tour groups put the Mogao Caves itinerary in the afternoon, so the chance of getting a reservation ticket is bigger. So, just make your tour there according to your time schedule so as to have better experience in the Mogao Caves.