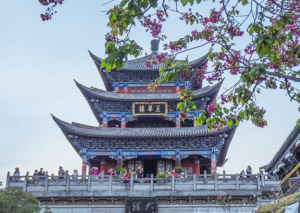 The commercial atmosphere of Dali Ancient Town is still a bit strong, and the shops are opened earlier. They are selling all kinds of small things, specialties, food, and clothes. The air in the morning is very fresh there, and the various things along the way are still very eye-catching. Although it is commercialized, it doesn't matter, it will be fun anyway.
There are a lot of shops selling gadgets in the ancient city. Strolling around and seeing all kinds of scenes there is also very lively. There are a lot of scarves and shawls for sales in the Dali Ancient Town, and the price is very cheap, just around ¥10.00 to ¥30.00. In Yunnan, the temperature difference between day and night is relatively large, and a thin shawl is very useful. And you can buy one here, because it is more expensive when buying in Shuanglang and Lijiang. In every ancient towns, there will always be surprises when picking gadgets up slowly.
In the Dali Ancient Town, there are many flowers and flowers ring. So many girls are not resistant to the garland, which will cost ¥10.00 to ¥15.00, and features a lot of styles to make you dazzling. Everything looks good. The specialties of Dali Ancient Town, such as vanilla meat, chicken, pork, beef smell good and cost ¥5:00 for each one. In addition to specialty snacks, Dali's fruit is also very fresh, grapes, cherries, bayberry are cheap and delicious.
The Dali Ancient Town is one of the most famous spots in Dali. Living here, you can easily go to Cangshan, Erhai, Chongsheng Temple, etc., which is very convenient. Eating here, there is no lack of delicious, such as the shops of "revival of the small courtyard", "I am waiting for you in Dali", etc. Playing here, it is a mature business circle, as well as has foreigner streets, Dali Museum, etc., and the unique clear sky is so beautiful for you to take pictures. Leisurely walking through the streets of the Dali Ancient Town, viewing the charming scenery, savoring the slow pace of the leisurely life of the ancient town, it is also comfortable.