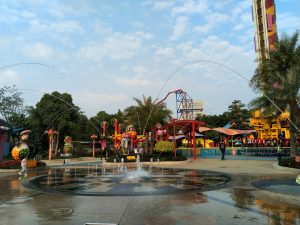 The ChimeLong Tourist Resort is awesome. The tickets for the Grand Circus are expensive and the children need to buy tickets but it is worth seeing! Happy World is suitable for both adults and children. There is an amusement park built for children under 10 years old. Even the little ones who are over 1 year old can find suitable items in the resort, so it is great! Not to mention the zoo, children are not willing to come out when they are playing there! And your trip will be very successful!
ChimeLong Tourist Resort is especially suitable for children to play (including the small children), but don't forget to bring their own trolley, as the trolley here can be rented at 12 o'clock! The cutest animal should be the small koala there. And don't forget going to the car-taking area to have fun! There is also a need to carefully study the route of the map, do not go the wrong way, and just one day is enough to finish your visit there leisurely! Special reminder: Children are not suitable to go to Luoluji Park.
It is not recommended to take the subway when departing from Guangzhou City Railway South Station. At the North Gate Bus Station, you can take the No. 75 bus and take about four or five stations to get off at the Hanxi ChimeLong Station. Then go back a short section and cross the overpass to ChimeLong. The Happy World is so funny, not only you will feel the play there is exciting, but also there are a lot of performances that are also very exciting. And it is especially recommended not to miss the stunt performance, as it is so shocking! And the night performance is beautiful.
It is really a good choice to take your child to have a tour there. The scenic spots in the park are very good, the weather is very good, which is not hot or cold. Remember to bring enough water and you cannot bring food into the resort.