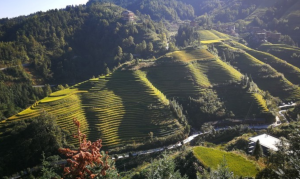 Longji Rice terraces are a large-scale terraced group in Guilin, which is divided into Jinkeng terraces, Pingan Zhuang terraces, and Longji ancient Zhuangzhai terraces.
When visitors taking a tour to the Longji terraces, most of them take photos on foot and even many photographers come there to view the sunrise. You can also taste the local farmhouse cuisine and experience the ethnic customs.
The terraces are scattered with the stockaded villages of Yao and Zhuang people. Every year on June 6th, the Luyao Festival of the Hongyao is the "Clothing Festival" of the Hongyao. At that time, every household will take out the flower dress skirts to dry and dazzle.
Official Telephone number of Longji Rice Terraces: 0773-2800315
Time visiting for reference: 1 day
Opening hours: All day
This scenic spot is about 80 kilometers away from downtown Guilin. There is a tourist bus to the Longji Rice Terraces from the city center. Longji Rice Terraces tickets are sold 24 hours a day, tickets for adult are100 RMB, for student are 80 RMB during Monday to Sunday from January 1 to December 31, and the tickets include Pinganzhai and Dazhai Jinkeng. As long as you don't go out of the ticket checking gate, the ticket will remain valid. In the scenic area, it is convenient to eat and stay. The seven-seat vehicle can go directly from the ticket office to the parking lot of each attraction. Vehicles with over than seven or more seats can only stop at the ticket parking lot, and then take the sightseeing bus to reach each scenic spot, and the sightseeing bus is only open from 7:00 am to 19:00 p.m.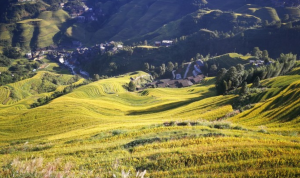 During the October harvest season, there is a wide range of golden scene. On May, it is water release season, and it looks like a bright mirror, and seems very majestic. If the time is not very tight, you can live on the mountain, look at the sunrise, and watch the sunset. Remember that after the National Day, all the rice is harvested, and there is no scenery. So, make your trip there before the National Day Golden Week.