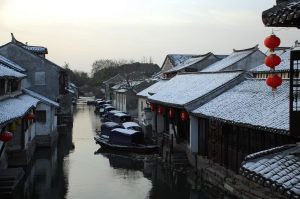 Here are some travel guides for your tour to the Zhouzhuang Water Town:
Featured shopping
Zhenfeng Cultural Street: Selling Jiangnan handicrafts, including homespun, yellow wine, woodcut New Year pictures, bamboo art, etc. Most stores are closed at sunset.
Carton King theme creative park: all kinds of decorations and small objects in the store are made of paper, which is very characteristic. You will find that you can make so many fun things with just paper.
Yuanfengshun Wine Workshop: This winemaking process is ancestral. The raw materials are made from the unique glutinous rice in the water town. After a lot of complicated procedures, you can get a drink. If you are interested, you can buy the wine there.
Qinglan Workshop: Hand-painted ceramic plate painting, most of the paintings are classical figures and images, which are elegant and chic, and they are quite charming.
Zhouzhuang Accommodation
If conditions permit, it is recommended to stay in the Zhouzhuang ancient town for one night to get a deeper understanding of this place. There are many inns in the ancient towns, most of which are located along the river and attached to the backyard. The environment is very good and quiet, and you can choose it according to your needs.
Zhouzhuang cuisine
When you come to Zhouzhuang, the snacks here can't be missed. There are many special snack shops around the Zhengfeng Street and around the Shen Hall. Zhouzhuang's snacks are very rich, and all kinds of cakes can also be found here. You can look for it while shopping.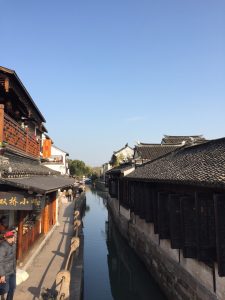 Special Note
If you take a tricycle from Zhouzhuang Water Town to the entrance, you need to explain the route and price. Sometimes there will be a situation where the driver will take the tourists to the ancient town and then increase the price.
The boat tour along the town and the sculling boat experience in the scenic area is not the same activity. The ticket for boat tour along the town can be bought at the ticket office of the scenic spot. The ticket for the sculling boat experience in the scenic area needs to go to the dock to buy and then take the boat.