When you make your trip to the Wuzhen Water Town, if you just go to the west bank, the ticket is 120 yuan/person, and the East Bank and West Bank coupons are 150 yuan. If you have enough time, you can go to have a visit on both East and West Bank. You can compare it. The West Bank can be played during the day or at night, different time has its own differences. After checking the ticket from the entrance of the scenic spot, after taking a short boat ride on the river, you will enter the West Bank from the dock. There is a scenic service center and a check-in counter nearby, which is very convenient.
You must arrange at least half a day of play time on West Bank. It takes more than an hour to look at some of the town buildings on the main street of West Bank. Going back to the pier will take at least two hours around the town waterway. Otherwise, it will be a quick walk to take exercise. When the weather is fine, it is recommended to take a local Ubud boat and watch the riverside buildings in Wuzhen on the water. At noon or in the evening, you can dine at the restaurants in Wuzhen. The price is very reasonable. You will feel it surprised to see such a delicious, high-quality and low-priced restaurant in the closed scenic spot. In short, Wuzhen is the most successful water town scenic spot for commercial development. It is highly recommended that you go to play there, and you can go there several times and stay at night there.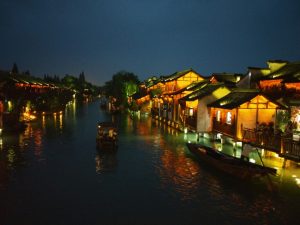 About Wuzhen, it must be a place that you don't want to leave when you come, especially Wuzhen in the night like a classical beauty coming out of a painting, which is so beautiful and fascinating. But, well, the premise is that you better live in the west bank. The commercial atmosphere in Wuzhen is not very strong, the streets and houses are very primitive, and you will like the bridges here, like the small ink art here, like the ease here.