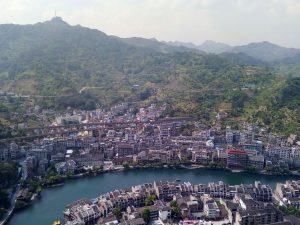 Zhenyuan Ancient Town is a place worth visiting again. It is more beautiful than Xijiang Qianhu Miao Village as Xijiang Miao Village is too commercial, and only the night view there is worthy of a visit and even though it is more concentrated and spectacular, it is a little dirty and monotonous. Zhenyuan Ancient Town has more delicious food which are reasonably priced.
The Zhenyuan ancient city does not need buying tickets, and the car can be entered casually. It must be a little messy with crowed people. Although it is commercialized, the scenery is excellent and it is worthwhile. Enjoying the panoramic view of the ancient town and the Wuyang River S-Bay must be on the Shiping Mountain, but the door will be locked after work in the evening. You can only take a night view from Sifangjing Lane, go up the mountain and then go up the mountain. It is a little far way, and you may look for help as there are so many fork roads, but the locals are still very nice and simple, and they will answer your questions. When going down the mountain, there is no street light on the dark road, therefore, pay attention to safety. It is best to take the headlights.
The main attractions in the ancient town include Qinglong Cave, Museum, Taiji Ancient City etc. and basically it takes just one day to play there, you can also take the No. 7 bus to Tiexi Scenic Area, where children can play with water. It is recommended to drink a bowl of Soya-bean milk pudding in the alley of the town. The price is the same as that on the street. It is 5 yuan per bowl, and it is in the ancient building, where the environment is very good. In the evening, you can go to the Wuyang River to take the cruise to see the night view of Wuyang River. The cruise takes 60 Yuan during the day and 80 Yuan at night, which takes about half an hour.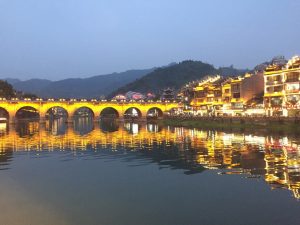 The ancient town is not big. The next morning, it is best to turn around the two sides between Zhenyuan Bridge and Zhusheng Bridge and then leave. Because at this time, people are less and it is much quieter there, which is easier to enjoy the ancient city charm.