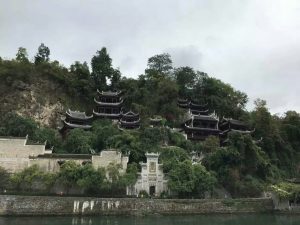 Qinglong Cave is backed by green hills, facing green water and fit with the cliff. The ancient buildings are surrounded by mountains, and are naturally integrated with cliffs, ancient woods, vines, rocks and caves. They have both hanging buildings that are facing the rivers, and also quiet Monastery on the river. It is very special and features great scenery.
In the remote southwest Guizhou province, there are many large-scale religious buildings with long-standing, exquisite design deep in the mountains that have been well preserved with such completeness and scale. It is rare! The buildings face the Wuyang River, and there is a bridge between the Zhusheng Bridge and the ancient town. Thanks to the colorful lights in the evening, it is very temperament and delicate! From here, you can see the most beautiful river view in Zhenyuan. After you go up, you will understand why Zhenyuan is called Taiji Ancient Town, and it is very convenient to collect tickets after you buy the ticket online. However, the Qinglong Cave is relatively small, and there are not many classics to watch. The ticket price for the cave is a bit higher than the fare like the Forbidden City in the eyes of some tourists.
Tickets for Zhenyuan Qinglong Cave: 60 yuan/person, and the scenic opening hours is from 8:00-17:30. For those children who are between 1.1 meters – 1.4 meters can enjoy half tickets, and those children who are below 1.1 meters can enjoy free tickets; those people who are above 60 years old can also enjoy half tickets, and free tickets for those who are over 70 years old.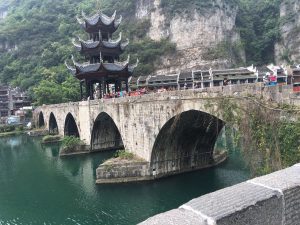 When you come to Zhenyuan, this is a spot that everyone will go without recommendation, and it is also worth seeing. It is an attraction features Confucianism, Buddhism, Taoism and Taoism. Architecture is its greatest feature, and it is not bad to climb to overlook the scenery.
Qinglong Cave is a small and beautiful classic attraction, with Tai Chi feng shui, and the architectural features here are distinct. The green mountains and green water look great!