Visiting Harbin is basically based on the unique European architectural art. If you are traveling in winter, the snow and ice project must not be missed.
The old city of Harbin is also known as the three districts of Daoli, Daowai and Nangang. Harbin's most well-known attractions are gathered here, such as St. Sophia Cathedral, Central Street, Gogol Street and Old Road. No matter what kind of wish you have for your trip to Harbin, this area will be your main activity range; for those who like history and love architecture are unable to extricate themselves, because Harbin's most precious attraction is here. For the Harbin's relatively new urban area, although the historical heritage is not comparable to the old city, the ice and snow world, Sun Island Snow Expo and other ice and snow related projects are here. There are also places such as Polar Pavilion, Hulin Garden, Science and Technology Museum, etc., which can be said to be a good choice for family and children tour.
In the Ice and Snow World, you can enjoy the world's highest, longest and largest snow and ice landscape. There are also world-famous buildings, classic cartoon characters, and European-style song and dance performances, Harbin ice acrobatics show, outdoor large-scale ice and snow performances and other colorful snow and ice activities. Large slides, ice climbing rocks, labyrinths, snow football and other ice projects are very popular. When the colorful lights next to the ice sculptures are open at night, they are like a fairy tale world with ice lamps.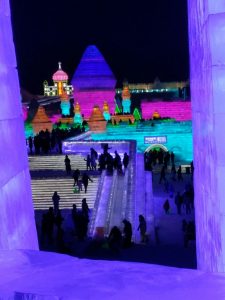 The craftsmen of Harbin Ice and Snow World used wisdom and skill to paint a magnificent picture in the language of ice sculpture. Founded in 1999, at the turn of the century, Harbin Ice and Snow World is located in the west area of Sun Island. After more than ten years of success, it has developed into an irreplaceable city card in Harbin and a world-famous ice and snow tourism brand. More than one million tourists, 2,000 pieces of ice sculptures and more than 30 pieces of ice and snow entertainment every year make it worthy of the title of the world's largest ice and snow theme park. Once a year, the grand ice and snow festival is full of light and is so beautiful at night. It is very worthy your visit.