Where in China can you experience a mix of history, culture, and nature?      
You can explore some of China's most diverse cultures, ecology, and landscapes in Yunnan Province, just south of the Tibetan Plateau. Yunnan features green low-lying valleys, white-capped mountains, and a vast assortment of ethnic communities. This diverse terrain is home to the beginning of The Ancient Tea and Horse Caravan Road, or "The Silk Road of Southern China".
The 3,100-mile route of the Ancient Tea and Horse Caravan Road started in Southern China, passed through Tibet, Burma, Nepal, and ended in India. China's desire to import horses from Tibet and Tibet's desire to import tea from China was the main motivation of the trade along the Tea and Horse Caravan Road. Traveling this route was difficult due to its diverse terrain, and one minor misstep could be fatal for both trader and animals.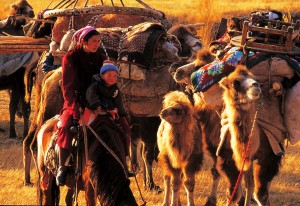 Today, the Tea and Horse Caravan Road attracts people from all over the world with its assorted teas, mixed cultures, stunning landscapes, and ancient centers of trade. By traveling along this route, travelers can experience both ancient and modern China by learning about the culture of local ethnic communities, hiking in the ancient tea tree forests, and exploring the scenic mountain, rivers and valleys.
How can you get there?
AsiaTravel can take you on a 13 day journey along the route of the Ancient Tea and Horse Caravan Road in Yunnan. The first stop, Xishuangbanna, is the original place of pu'erh tea production. In Xishuangbanna, you can buy premium pu'erh tea at Menghai market, meet the descendants of the first tea cultivators, and stay in an Aini Village homestay. We pass through Dali as we follow the route through sloping valleys, golden barley and canola fields to Shaxi. After Shaxi, we see Lijiang's Old Town and the legendary Yangtze River on our way to Shangri-La. In Shangri-La, we explore Songzanlin Monastery, the largest Tibetan lamasery in Yunnan, the Napahai Lake, and visit a nearby artisan village.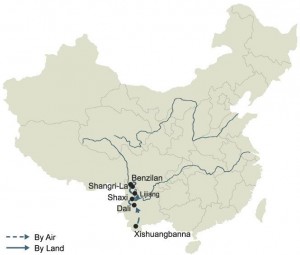 Are you a spontaneous planner?
Join us this October in Yunnan! This is our last small group trip of the year, led by Jeff Fuchs, the first Westerner to have ever traveled the whole road. Our journey to China's  Ancient Tea and Horse Caravan Road begins October 15 and ends October 24. If you're interested in retracing the steps of those who traveled this ancient road, contact info@wildchina.com.
Like to make plans in advance?
If you're interested in tea or Yunnan cuisine, keep your eyes open for our 2015 small group departures which include a tea-based journey of China and Taiwan with Jeff Fuchs and a special gastronomic tour of Yunnan with expert Fuchsia Dunlop.