A AsiaTravel employee takes off on an impromptu bike ride…
Escaping Dali
After exploring the bustling streets of Dalizhen in Yunnan Province, we needed an escape to mother nature. With the towering Cangshan Mountains encircling beautiful Erhai Lake, we decided to see what the waterfront had to offer. We considered a leisurely day trip down but, plagued by restless legs, we chose to cycle upwards of 120 kilometers (75 miles) around the lakeshore.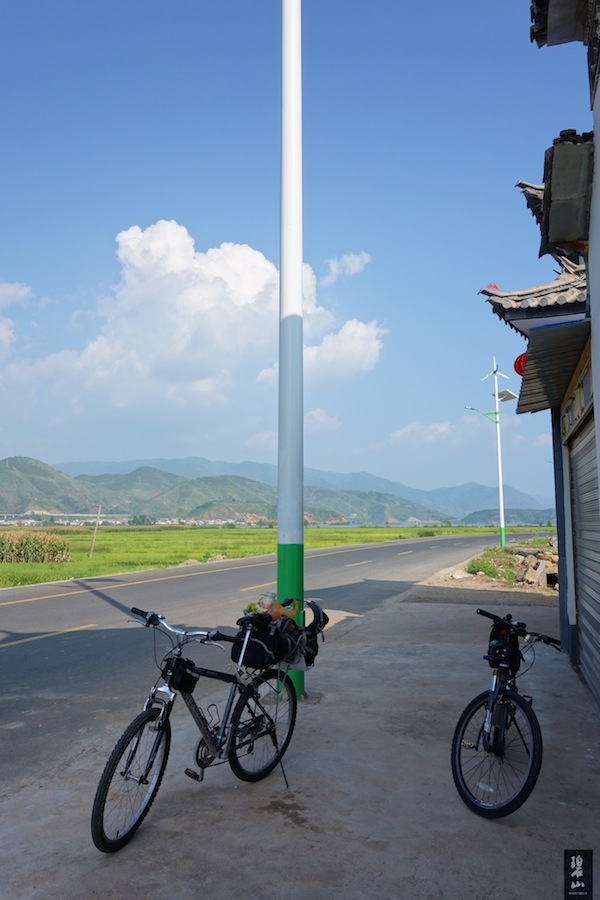 Our tickets to exploration
 Erhai is surrounded by small villages that exist largely oblivious to busy "old town" Dalizhen and the rapidly expanding "new town" Dali. Hopping on rental bikes and heading towards Erhai, we crossed the busy Dali 1st Class road and enter what felt like a different place. Faces changed from chatty travelers to focused villagers working the land and the lake. Once on Erhai Ring road, the road winded through fields, villages and along the waterfront. Taking advantage of August's fall heat, villagers were drying tiny fish on the roadside. The first time we passed a net full of fish, a heavy scent swept over us, but we soon adjusted after passing net after net.
Roadside drying fish
As we weaved through villages, we were awarded glimpses into the homes of those farmers and fisherman. Small houses and temples hugged narrow roads filled with talkative village elders and children playfully rolling hoops along side us. Really starting to feel the heat, we stopped and indulged in green pea popsicles, a surprisingly refreshing treat.
Homemade popsicles
Erhai Surprises
We discovered Erhai Lake is well known for its cormorant bird fishing. Following what appeared to be other travelers, we rode down through a village to the fishing pier. Fishermen were preparing long canoes full of squawking birds before heading out to local fishing spots. The birds are trained to dive into the water, catch fish with their long beaks and return to the boat where fishermen retrieve the fish from the birds' throats. Such a interesting process draws quite a crowd, but we were fortunate enough to see cormorants in action at multiple points along our ride. Due to inefficiency, such fishing practice has largely fallen out of use and been replaced by motor assisted net fishing teams which spot the shoreline.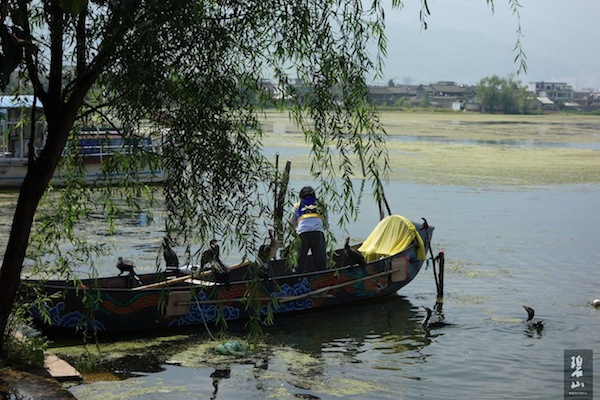 Cormorant fisherman preparing to depart
Each break yielded cheerful encounters. On one particular occasion, we were invited into a Bai (白族) village to celebrate someone's 80th birthday. In such small villages, reaching 80 years of age is quite a significant event. We were welcomed with many smiles, incredible food aroma and the honor of sitting at one of the high tables with some of the village celebrities.
Being one of China's 56 diverse ethnicities, many of the Bai people spoke and understood limited Mandarin which made dinner table discussion particularly entertaining. One man excitedly commented that it was the first time he had met Westerners. Countless bowls of food were placed on the table, chopsticks were passed around and the celebratory feast began. Some of the dishes included the small fish we saw drying along the roadside. While they may smell overpowering when drying, they taste wonderful when supplemented with flavorful sauces. The villagers told us the fish are considered a local delicacy. Loose leaf tea was delicately served. We had a blast celebrating 80 years of life and meeting the new faces. We were even offered beds for the night but, having to continue our progress, we left with full stomachs and further invitation to return the next day for a second round of celebrations.
Rest for Day Two
Fortunately with so many towns surrounding the lake, many potential spots exist to stop and spend the night. Shuanglangzhen provided a particularly good spot with many accommodations including lakefront balcony views. Savoring a glass of wine while watching the sun dip below the Cangshan Mountains and the lake reflect a palette of colors, we reflected on an incredible day. Packing up the bikes and eating a big breakfast, we got rolling before noon the next day.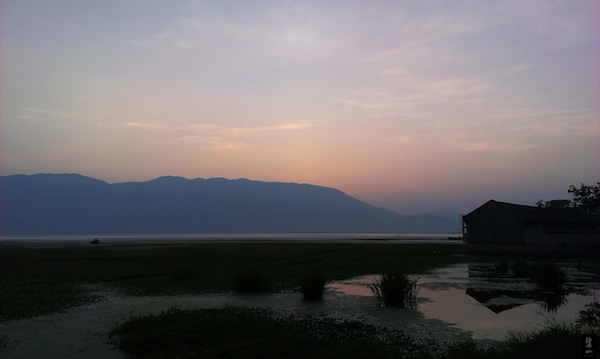 Erhai Lake, Cangshan Mountains and a beautiful sunset
Continuing on the next day along the east side of Erhai, we encountered a bit more challenging elevation change. After sweating up the climbs, we were rewarded with spectacular panoramic views encompassing most of the Dali/Erhai Lake area. After having ridden through historical villages, we approached the outskirts Dali "new town" and its towering modern developments. We could not help but consider the insights offered across China. We just happened to enjoy a 120 kilometer glimpse into the immense contrasts of China.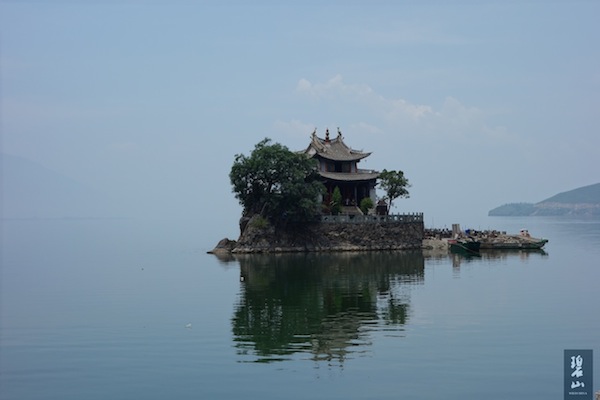 Erhai island jewel
_______________________________________
Join us on a similar adventure in Dali, Lijiang and Shangri-La!
Interested in getting a bike ride in on your trip to China? Get in touch with us at info@wildchina.com!