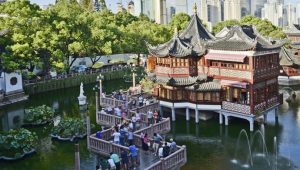 Yu Garden is indeed a nice little garden. It is not like the exquisiteness of Suzhou Garden. Instead, it has more handsome masculinity inside, and it is refreshing. The Yu Garden is not as big as it was supposed to be. After all, it was a private garden, and it takes almost 1.5 hours to visit all the scenery spots inside. The distinctive roof and the engraved character scene really make Yu Garden very special. If you have visited the beautiful and quiet gardens in Suzhou, you can pass by and take a visit the charm of Yu Garden. And if possible, just choose the time when there is not so many people visiting the Yu Garden to come there, as it will be quiet, if you can isolate the embarrassment outside. The Yu Garden is closed earlier, and just pay attention to it.
When you go in the Yu Garden, it is recommended to take a map, so as not to go back, and you can buy a mobile phone explanation, it will be more interesting.
As soon as you enter Yu Garden, you will feel that as if you have traveled to another time space. There is no reinforced concrete and no high-rise buildings. There are only corridors, flowing water and willow. Although the Yu Garden is a scenic spot, you can choose to buy a ticket to go in and see, or you can choose to just stroll outside. Similar to Beijing's South Luogu Lane, there are various ancient buildings, small shops and snacks along the street. It is really a place to eat and play.
You can buy the tickets for Yu Garden directly online, which is 54 Yuan/ 2 person. It is Suzhou garden style, and you may personally feel that it is more suitable to spend time to waste in Yu Garden, if you rush to leave, you may not feel the beauty of Yu Garden.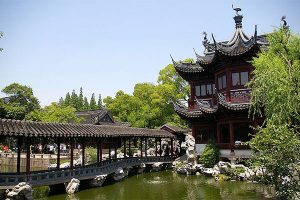 The Yu Garden itself is very beautiful. This typical Suzhou-style garden is exquisite and beautiful. The dragon wall is especially impressive. It is a rare garden in Shanghai. It is quite big inside. There are many tourists on the weekend, especially many foreign tourists. You can take pictures everywhere. There are many rockeries, and there are water and old houses. You may like those eaves, as the micro-carvings of the building are different.