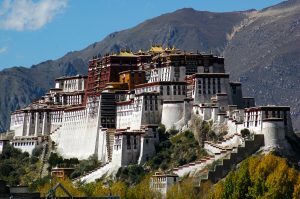 For most of people who take a tour to Tibet, the Potala Palace is their top 1 choice there.
It is the highest and most majestic palace in the world, and it is the most important symbol of Lhasa and even Tibet. It was built by the Tubo dynasty, Zanpu Songzan in order to marry the Princess of Wencheng and Princess Bhrikuti. Over the past 1300, there have been nine Tibetan kings and 10 Dalai Lama who have been here for administration.
"Potala" is Sanskrit and translated as "Putuo". It originally refers to the residence of the Goddess of Mercy. The Potala Palace is also a holy place in the hearts of all pilgrims. It is mainly composed of the Red Palace and the White Palace. The highest red palace in the middle is an important place for religious ceremonies. The surrounding White Palace is place mainly for the Dalai Lama's life and political activities.
There are a large collection of historical relics collected and preserved in the Potala Palace, including pagodas, statues, murals, Thangka, and scriptures. The most striking of them is the eight spiritual towers of the Dalai Lama since the Fifth World (the Sixth Dalai Lai Cangyang Gyatso has no spiritual tower), which is a palace of art. There are three locations for taking the photos of the Potala Palace: the Yaowangshan Observation Deck on the southwest side of the Potala Palace, the artificial lakeside on the Zongjiao Lukang Park, and the Potala Palace Square.
Official telephone number of the Potala Palace: 0891-6339615;
Referred time needed: 1-3 hours;
How to go to the Potala Palace:
Take the No. 8 bus and get off at the Yaowangshan Farmers Market Station; if you are departing from Beijing East Road, you can walk to it.
Ticket:
Ordinary ticket: 200 RMB (Monday to Sunday during May 1st – October 31st)
Ordinary ticket: 100 RMB (Monday to Sunday during November 1st – April 30th of the following year)
Free of charge: children under 1.2 meters.
Open time:
09:00 a.m. – 14:00 p.m. (Monday to Sunday during January 1st – December 31st.
Tickets for the Potala Palace during the peak season are difficult to buy, and time does not allow you to queue up to buy tickets overnight if you are in a hurry. So, you can book tickets and guides for the Potala Palace online in advance. The whole process will be very satisfactory and the time is reasonable. The tour guide is also very good, but the history of Tibet is not something you can learn by visiting the Potala Palace as you need to learn slowly. Anyway, Potala Palace is surely a great place for you to take a visit.