The Chinese regard Yangshuo's postcard-perfect scenery as "the finest under heaven" rivalling that of even the Great Wall or Terracotta Army – it's even been emblazoned on the 20 RMB note.
 –
While Yangshuo's spectacular scenery may be famous, and popular with tourists, the local area remains rich with old world charm. Visiting the region feels like stepping into an ancient Chinese ink painting, a canvas rich with dreamy hues, characterized by towering jade green mountains, sleepy villages and fishermen upon winding rivers. Put simply, this is the wild heart of China.
Here's 7 things you should see and do in Yangshuo.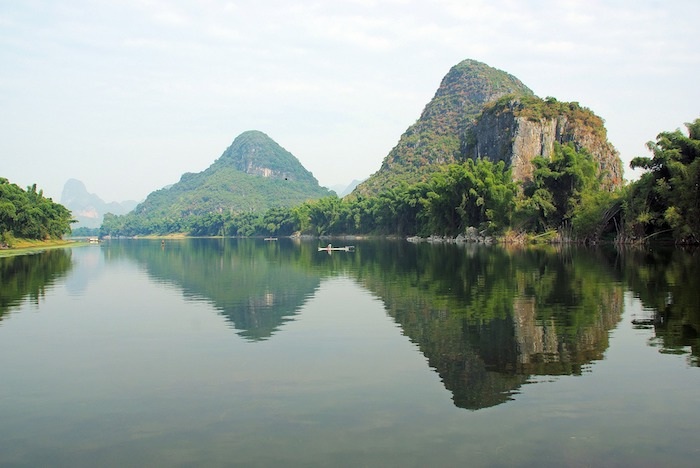 Biking and Hiking
Visitors can easily leave behind the bussed-in tourist crowds and get closer to Yangshuo's villages on two wheels. Out in the rural areas cars are few and roads are smooth, so biking about guarantees a one-of-a-kind adventure.
Visitors can pedal between the sleepy villages near Liugong, as the Zhuang people, Yangshuo's prominent ethnic minority, move to the peaceful rhythms of the countryside.
To hike up onto the back of Yangshuo's karst peaks offers a unique perspective, as most only gaze in awe from below. At first these forested giants appear impossible to climb, but get closer and you'll see ancient stone steps that lead to jaw dropping panoramas over mist-shrouded peaks and winding rivers.
When you travel with AsiaTravel, you'll be led through the most off-the-beaten path trails as you bike or hike through the enchanting scenery on our Essence of China tour.
Chinese Cooking Class
Cuisine in this region of China balances the flavors of its two-world famous neighbors – Sichuan's volcanic cuisine and the fresh tones of Guangdong. A popular local breakfast staple is rice noodles, which provide just enough kick for a long day of sightseeing.
In Daxu, a 2,000 year-old town famous for its ancient crafts, visitors can stop by a local's home and learn the art of making soymilk with nothing more than a stone wheel.
Classic dishes taught in Yangshuo cooking classes feature chicken, pork and a variety of seasonal vegetables. One of our favorites is  jiandan jiao, a simple but mouth-watering dish of steaming dumplings fried in egg.
Aspiring foodies can give their taste buds something to remember in a traditional cooking class taught by local chefs, and using only local ingredients. While you may be taking a break from the outdoors, this zesty cuisine is guaranteed to keep things hot. This one-of-a-kind experience is one of the many cherished moments you can get while traveling with AsiaTravel.  
Li River Cruise
In this lush land of blue and emerald greens, one must-do activity is taking the world-famous cruise down the Li River.
Visitors here are spoiled for choice, as they can enjoy the river from deck of a luxurious cruiser, or take a bamboo raft guided by a local raftsman.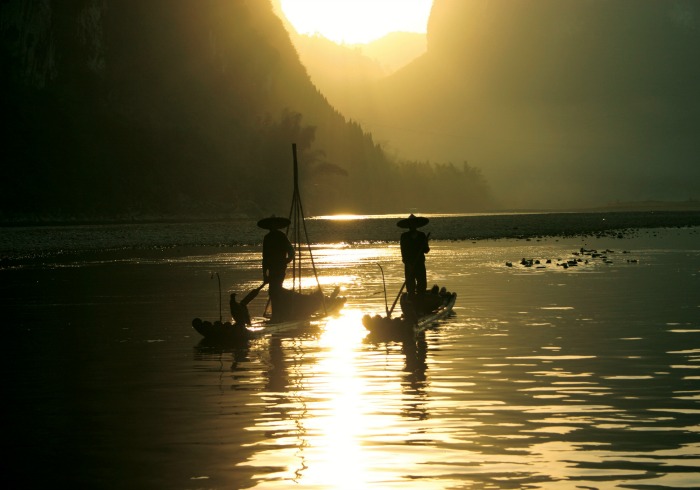 While the latter may be slower, it does allow you to slip into the lazy pace of local life. Either way, spellbinding karst mountain scenery awaits visitors on both sides of the river – it's no surprise that Yangshuo is one of China's top destinations for newlyweds.
Add a signature AsiaTravel touch and continue your cruise down to the untouched, bucolic countryside around remote Xingping. This is especially beautiful at dusk when locals can be seen fishing with the help of cormorant birds.
Traditional Chinese Medicine House
Another AsiaTravel treat is a visit to a traditional Chinese medicine (TCM) house that is normally only open to the local Yangshuo people. The house's owner is a licensed TCM doctor who has mastered the treatment of illness using traditional Chinese medicine techniques. 
We'll arrange a consultation that is normally off limits to visitors. The doctor will feel your pulse, observe your face, check the coats of the tongue and use other TCM strategies for diagnoses. After your consultation, the doctor will suggest Chinese medicines to you from his drawers full of herbs and roots. Your AsiaTravel Guide will be with you every step of the way so you can ask questions to the doctor.
Tai Chi and Kung Fu Classes 
Channeling the natural surroundings into elegant movements, taichi and kungfu are the perfect activities to accompany the landscapes of Yangshuo.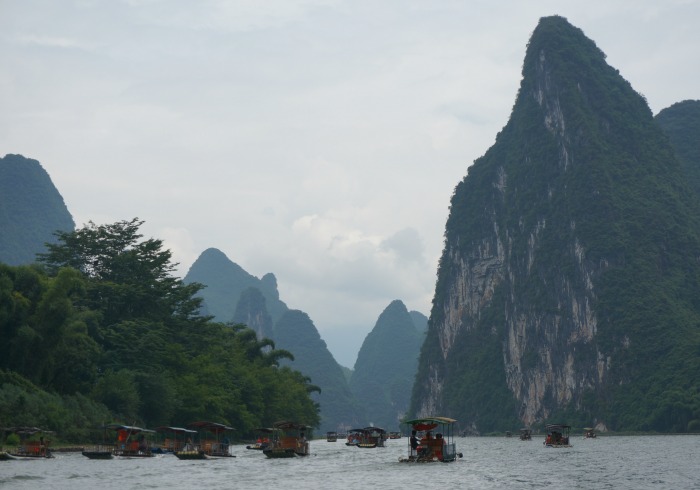 On a AsiaTravel journey, you'll be expertly led through the movements of kungfu or taichi by masters from a local school. These classes take place right next to either the Li or Yuelong Rivers where you can breathe the fresh local air and appreciate the majesty of Yangshuo's mountains and rivers.
Landscape Painting Classes
With all the inspiring scenery, rediscovering your artistic side is a breeze, thanks to landscape painting classes taught by local professional artists that AsiaTravel will arrange for you. Use traditional Chinese horse or rabbit hair brushes and mo, Chinese ink, to paint the surrounding mountains and rivers onto delicate rice paper.
Yangshuo's unique geological forms inspired countless poets and artists, embodying an artistic principle of lǜshuǐ qīngshān, meaning "Green hills and blue waters".
Local calligraphy masters help visitors learn all about China's intricate and mysterious written language with an introductory class to painting Chinese characters. Even if your work isn't a masterpiece, you'll leave with a newfound respect for Chinese students all across the country.
Impressions Liusanjie
Humans and nature come together each evening with the mesmerizing "Impressions Liusanjie", a choreographed masterpiece taken from Yangshuo folklore.  
Also known as "Liu's Third Daughter", the production features a six-hundred strong cast, and is directed by Zhang Yimou, the mastermind behind the Beijing Olympics opening ceremony.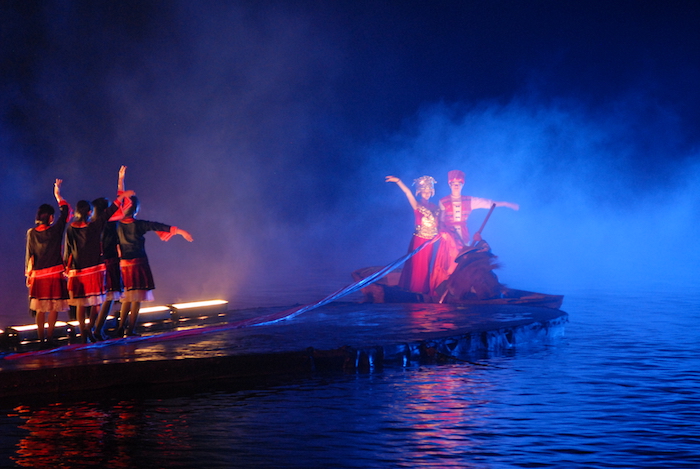 It focuses on the fairytale of a simple peasant girl who used the power of music to defeat tyranny and discover true love. 
Rather than using an enclosed space, the performance takes place on the Li River. The misty karst peaks and the heavens form the world's largest natural amphitheater, ensuring a unique experience according to the weather and season. Whatever the weather, its theme of man and nature living in harmony provide the perfect way to wrap up a day of marveling at China's most dreamlike scenery. Don't worry about booking your own VIP tickets. AsiaTravel will take care of all the details for you.
—
Get to the heart of China of our Essence of China tour, a unique highlights edit for first-time visitors. From the poetic karst peaks of Yangshuo to the glass and steel towers of cosmopolitan Shanghai, you'll marvel at the many faces of contemporary China on this multi-sensory adventure.