You know you have to hit the hutongs and get a pedi-cab ride, hear about the royal families and institutes that lived in those gray brick-and-tile mansions. But what about the rest of the hutongs, the real ones that old generations of ordinary citizens who lived there and passed it down to their grandchildren and their grandchildren?
We didn't forget about them! If you are interested in checking out the daily hutong life of modern China, here is the best representation of all transformed hutongs in Beijing. Away from the tourist sites, we present…
YANGMEIZHU XIE JIE– referred as YMZ alley below (direct translation: Skewed Red Bayberry and Bamboo Street)
Old & New YMZ alley
Qianmen, as a must-visit tourist site, should give you an idea of how people lived in old China, described in the books of Lisa See. But honestly, Qianmen area has changed so much from what it used to be. Everything looks so… twenty-first-century! There are H&M, Zara and Starbucks lined up on the street. The surrounding area is also much more modern. If you are there, then ditch the artificial facilities and mingle with the culturally rich local lives at YMZ alley.
What can you find here?
YMZ is named after a legend of Mrs. Yang, a very skilled matchmaker and the happy marriages she brought together. The street was then turned into a bevy of famous publishing bureau during the Republic of China era. The mixture of vintage and avant-garde, that's the difference between YMZ and the other not-so-cool hutongs. You will find independent designers, such as "casual location" and book cover designer studios that exhibit inspiring notebooks from all around the world. These tiny studios and boutiques deliver a positive yet mellow vibe to their native Beijinger neighbors. The residence on YMZ alley also shares their most welcoming tradition, treating these residence-nouveau as their new family members. Arriving at the doorsteps, we look at the YMZ in a whole new, admiring light.
What can you do there?
1. No set menu, no named cuisines, book a family dinner at Casual Location with local Chef Jiawen, he will surprise you with his healthy and delicious jiachangcai (home cooking.)
Casual Location 米念, reserve for tailored dinner:158 1030 0334 (two days ahead)
Casual Location Dinner Setting
2. Are you a crafty person? If yes, then check out Old Zhang's Wood-carving New Year Painting. A picture tells a thousand stories. Here you can learn a thousand traditions, urban legends, and bizarre cultural metaphors from all the carving designs.
Reserve with Old Zhang 老张的木板年画 13522641374
Old Zhang's Shop
Why we think it's cool?
If a laowai (Chinese for "foreigner") wrote a book about this little alley, you know it's pretty cool. Michael Meyer, a professor from Pittsburgh University and Peace Corps volunteer, lived in this alley for many years His book, The Last Days of Old Beijing, talked about stories of his neighbors—the 75-year-old granny moving out of the hutong that she lived in for her whole life, urbanites and Gen-Ys advocating the transformation of this old neighborhood, experts and scholars finding the significance of keeping these timeworn establishments.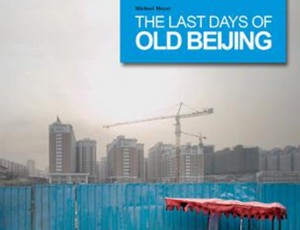 Michael's Book
With its legendary historical background and all the contemporary creative souls, this hutong is the new up and coming gem of Beijing.
Book a tour with us. Our Classic China series, which range from 11 to 13 days, all include Beijing as a destination. Our next departure is the Chinese Treasure trip that starts from Beijing and ends in Shanghai.
Classic China series:  Family Fun | Soul of Tibet | Chinese Treasures
Our Classic China series fuses our spirit of adventure and sense of luxury with China's most iconic routes to create distinctive journeys especially designed for first time visitors. Rather than simply catching a glimpse of the Great Wall and Tiananmen Square, we bring you superior access to experts, local experiences, and exclusive venues so you can get beneath the surface and experience China differently. Feed and care for pandas alongside their rangers or practice taichi with locals at the Temple of Heaven. Experience the real China in style with our Classic China journeys.
Photo credits to 时尚廊Trends Lounge