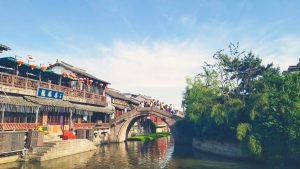 When you make a tour to Xitang Ancient Town, you can take a stroll through Xitang, shuttle between the shops under the bridge and the promenade, and enjoy the handicrafts made by folk artists on the spot. There are bamboo carvings, stone carvings, bone carvings, fabrics, straws, and embroidery, which are full of colors.
Xitang Ancient Town is equally popular during the day and night, and you will love the quietness of the day and love the bustle and hustle of the night. There are many shops along the river, which are selling creative gadgets. There are also many specialty snack shops, selling stinky tofu, ice cream, herbal tea, milk tea. And you can enjoy eating while walking in the interspersed alleys. There are many secret spots to be visited. When the night is coming, the bar street is noisy, the music is shocking, and if you like to have a drink, you must come and feel it.
The ancient town is full of quaint Inn and ancient houses of Ming and Qing Dynasties. Many people will choose to stay for one night and you can discuss with the boss to pick you up. Many of these accommodations need to bring you own toiletries, and the price increases are obvious on holidays and you must book in advance. In addition, there are many common modern hotels outside the scenic area.
When you come to Xitang Ancient Town, you should take a ride on the boat to experience the ancient town from the water. Especially at night, sitting on the boat and tasting the night view of Xitang, it is a pleasing thing. There is a cruise ship terminal in front of the main entrance of the scenic spot and in front of the Songzilaifeng Bridge.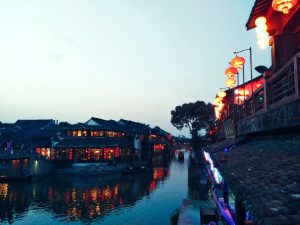 There are nearly 100 stone bridges on the river channel in Xitang. Among them, Yongning Bridge is the best view point of Xitang, where you can see the beautiful scenery of the river crossing. In the morning, you can come here to take the photo of the quiet and simple water town style.