Meijiawu is Meijiawu Tea Culture Village. It is located in the western hinterland of Hangzhou West Lake Scenic Area and in the south of Meiling Tunnel. It is more than ten miles deep along the sides of Meiling Road. Meijiawu is an ancient village with the history of more than 600 years. The ancient village is very beautiful.
Meijiawu is a good place to drink tea in Hangzhou. It is a little away from the West Lake and you may seem to be in the scenic spot. Meijiawu is a place where you can manage tea by a lot of tea villages, at the same time, it is a great place for leisure. There are some tea rooms built on the edge of the tea garden, so you can feel the life in the painting when you drink tea. If you are a young person, riding here is also a good experience.
If you go to Meijiawu in the winter, you can go straight up from Meijiawu, take the bus to Meijiawu Station, and go to the mountain from a memorial. Remember to watch the signposts of the martyrdom.
Meijiawu is the birthplace of Hangzhou West Lake Longjing. When the weather is good in the weekend of April, there are many people. Many people will come here for drinking tea. This is a pure land of the city. It has a long history of tea culture. The Yunqi Bamboo Trail here is definitely a good place to breathe oxygen. Sitting in the famous residence, soaking a cup of West Lake Longjing tea, you will find out that this is life.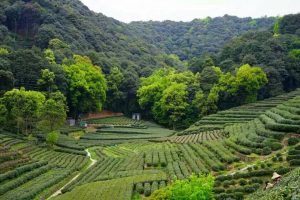 When you arrive in Hangzhou, you must go to Meijiawu if you want to buy tea. The lush green terraces are filled with green tea leaves, with fresh fragrance. The old farmers say that the Longjing tea that makes fragrance from their hands is their specialty. People come here to see them handmade craftship, and then bring the tea back home.