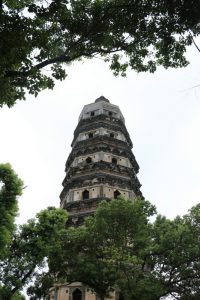 Tiger Hill Tower is the world's second leaning tower, and the first leaning tower in China. And the symbol of ancient Suzhou – "Yunyan Temple Tower", commonly is known as "Tiger Hill Tower." It was built in the sixth generation of Zhou Xiande after the Five Dynasties. It was completed in Song Jianlong's second year and has a history of more than a thousand years. The tower is seven-story and has eight sides, with a tower height of 47.7 meters. The tower is inclined to the north-north direction of the northeast. Its tower top is 2.34 meters away from the center, and the maximum inclination angle is 3 degrees and 59 minutes. The Tiger Hill Tower is also known as the "Chinese pizza oblique tower". Although you make your trip there in the hottest time, the Tiger Hill are breezy and the scenery is pleasant. It is worth a visit. It is a pity that you don't visit Tiger Hill in Suzhou!
Although Suzhou Tiger Hill Scenic Area is a little far from the city center, there are many buses directly there. Suzhou Good Travel Line Bus also has a station at the entrance of the Tiger Hill Scenic Area. Tiger Hill's Sword Pool is in the scenic area. It is said that it is the location of the cemetery of Yuewang. It is the core attraction of the scenic spot. It is necessary to purchase tickets to enter the garden. It is also convenient to book the ticket online in advance. It is worth taking a walk in the garden. The scenic spot is very large and it takes two to three hours to finish your visit there!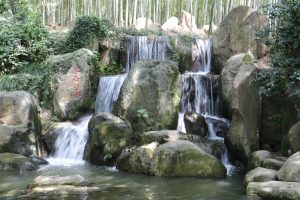 After you leave the Humble Administrator's Garden, take the No.1 south line bus to the end of the Tiger Hill, and arrive at the south gate of Tiger Hill. Tickets of the Tiger Hill are 60 yuan. Tiger Hill is rich in culture, poetry and inscriptions can be seen everywhere, the design of the villas is whimsy, and the Bamboo Tea Garden adds a lot of color for the garden. The pagoda on the top of the mountain is the only remaining thousand-year-old leaning tower in China. It is recommended to visit the Tiger Hill for half a day.