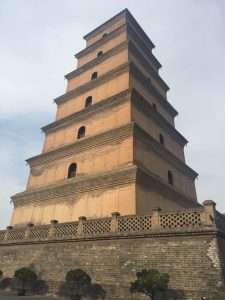 It is a historical value to come to Xi'an to have a visit to the Big Wild Goose Pagoda. The Confucian classics took back by Xuanzang were collected in the Big Wild Goose Pagoda in the same year, but the scriptures of the year were written on a kind of leaf. Now only nine pieces are kept, which has the national treasure level. It is recommended not to go to the Big Wild Goose Pagoda during the peak season, and there are very few people in the off-season, which it is better to have a visit there. The Big Wild Goose Pagoda in the sunset is still beautiful and fantastic, showing the style of the Tang Dynasty. There is Asia's largest musical fountain. It is recommended to have a walk there at night, the fountain at the bottom features vivid color, and it is bright and beautiful.
The Big Wild Goose Pagoda and the surrounding landscape are very harmonious, giving a sense of solemnity and tranquility, and even a feeling of returning to the Tang Dynasty, and you will feel like traveling through time and space. The tower is super stuffy inside, but there is a fan on each floor. The upper you climb, the smaller area it is, and it is the Xi'an landmark building. It is good to view it. You should take a tour there with the understanding of history, as it is not interesting to look at the tower itself.
Big Wild Goose Pagoda is very famous! Therefore, there are many people having tour there. The area there is relatively large. It takes about 1.5 hours to finish your visit in the Pagoda. There are temples and monks in the Big Wild Goose Pagoda. Everyone is very religious, the incense is very prosperous, the environment and architecture are very beautiful, and there is a bamboo forest, which makes the whole temple look very good, and quiet. When the sun is very good, you will feel very comfortable. The quiet environment of the Big Wild Goose Pagoda makes people all relaxed.