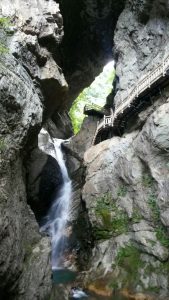 Shennong Stream (also known as Shennongjia Forest Area) is located in the western part of Hubei Province. The north and south sides are adjacent to Shiyan City (where Wudang Mountain is located) and Yichang City (where the Three Gorges Dam is located). Shennongjia Forest Area covers a large area. As a prefecture-level administrative area, there are many towns and forest farms in Shennongjia Forest Area. Among which the Songbai Town in the north of Shennongjia Forest Area is the administrative center of the forest area. Muyu Town in the south is the tourist reception center town of the forest area. Where the visitors who come to the forest area to play the first basically are these two towns, and the two places are about 80 kilometers apart.
As a wide-ranging tourist destination, it is divided into Shennongding Tourist Area, Tianyan Tourist Area, Xiangxiyuan Tourist Area and Yuquan River Tourist Area. What tourists visit the most are the top three tourist areas as well as Guanmen Mountain and Shennong Altar. And tickets of the major tourist areas and surrounding attractions are sold separately. The Shennongding Tourist Area is the core area of the whole forest area and a well-known tourist area in the forest area. Many tourists will confuse the Shennongding Tourist Area with the Shennongjia Forest Area, thinking that the two are the same tourist scenic spot.
When you come to the Shennongjia forest area, it is like entering a virgin forest. There are towering trees and lush vegetation. Every day, you will enjoy yourself in the natural oxygen bar of nature, completely away from the hustle and bustle of city life. In the Shennongding tourist area, you can climb the "Central China Ridge". The Shennongding in the tourist area is the first peak in Central China. You can also see the rare and precious golden monkeys. Here is the place where the mysterious "Shennongjia Savage" haunts and you will find some relics such as savages' hair, footprints etc.