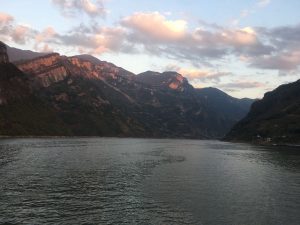 Wu Gorge is the second gorge in the Three Gorges of the Yangtze River and the longest one. There are 12 peaks in Wu Gorge, the most famous of which is the Goddess Peak, which is also the most beautiful place in the Three Gorges. The best time to have a trip to the Wu Gorge is in autumn, when the mountains are full of red leaves, it is really beautiful and it is fascinating.
Wu Gorge is one of the very good attractions. The scenery is beautiful and charming and full of temptations. It is worth recommending to everyone. It is very interesting, the scenery is infinitely good, and the price-performance is very high. It is really wonderful to take a cruise.
After passing through the Qiangtang Gorge, the cruise ship sails over a wide river and enters the Wu Gorge. The Wu Gorge is wider than the Qutang Gorge. It is the longest Gorge of the Three Gorges, which is 42 kilometers long from east to west, and takes about two hours by boat. Wu Gorge is also the most beautiful gorge. The 12 peaks of the Wu Gorge are famous. The goddess peak is a miracle of nature. In autumn, the red leaves of the mountains are really beautiful. Everyone must appreciate them carefully.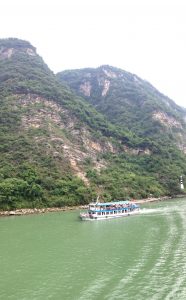 The Yangtze River passing the Wushan has left many scenic spots there, among which the Wu Gorge is a charming one. It allows visitors to feel the changes of Wushan, and feel the infinite charm of many mountains and rivers landscape. Being the largest and longest canyon in the Three Gorges of the Yangtze River, the Wu Gorge is ideal for boat trips. The infinite scenery is in the Wu Gorge. There are many peaks on both sides of the river. The shapes are different, the craftsmanship is very beautiful, the whole scenery is very beautiful. When the sun sets, it is worth to appreciate the charm there.