Shibaozhai, a historic wooden structure with unique style and beautiful scenery, is the world's largest bonsai with its unique scenery. Shibaozhai is a free spot in the Yangtze River Three Gorges cruise trip. If you go there by yourself, the ticket is 50 yuan per person. Located in the north bank of the Yangtze River in Zhongxian County, Chongqing, Shibaozhai has many patriots and generals. Bai Juyi has also been here. Shibaozhai is featuring loyalty culture.
Being a must-see attraction of the Three Gorges River, Shibaizhai was originally a small town. Later, due to the construction of the Three Gorges Dam, the water level rose and the original town was flooded. The state allocated funds for new construction. Shibaozhai is a nine-story wood tower, and each floor has Bodhisattva. The steps on the tower are steep, but when you reach the summit, you can see the whole town and the scenery along the road is beautiful.
The cruise ship was docked in Zhongxian County. Under the guidance of the tour guide, everyone will visit a scenic spot called Shibaozhai. Located on the north bank of Yangtze River, Shibaozhai was built on the mountain, and it is very unique and features wooden structure, and when you climb up, you will feel the stairs are very narrow. The building shape to the nodes and decorations are quite different in the upper reaches of the Yangtze River. At the bottom of the building close to the exit, you will see a flower window, which is especially interesting.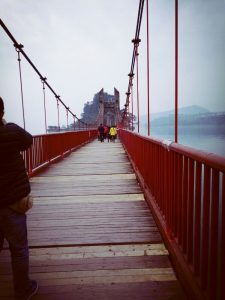 Don't go with the guide after you get on the pier, as the tour guide will take you to the commercial street and then to the attraction. After going to the dock, look at which side of the sedan chair to go, and following that road is the best and the fastest. This village is very characteristic. It doesn't use a nail. It all hangs on the cliff by the fit of the wood. It feels very thrilling when climbing up Shibaozhai.