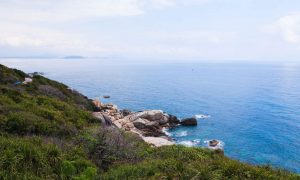 Wuzhizhou Tourism Zone is located in the Haitang in the north of Sanya City. It is opposite to the South Bay Monkey Island in the north and the Yalong Bay in the south. Wuzhizhou Island is one of the few small islands with fresh water resources and rich vegetation around Hainan Island. There are more than 2,000 kinds of plants and many precious tree species. The east and south peaks of the island are connected, with a peak of 79.9 meters. Here, you can enjoy Sanya's most outstanding sea water quality and delicate white sand beaches, the blue sea and the blue sky and the strange stones in various poses. Looking at the endless south sea in Sun Rock, you will feel very enjoyable.
Wuzhizhou Island in Sanya can be said to be the most beautiful island in China. The water here is blue and clear, the island is full of flowers and the coconut trees are dense. There are many beaches and the scenery is so captivating. It is really beautiful. Especially in the season when flowers are blooming, it is really awesome.
If you want to really be fun, it is best to live on th Wuzhizhou Tourism Zone, as living on the island, you can better understand the island's beauty, water's beauty, and the scenery's beauty. Because there are too many tourists during the day, after 17:00 pm, when the tourists leave the island, the island is quiet, and you can walk slowly. It feels like you are the owner of this island, whether it is walking with friends on the beach or watching the sunrise with your lover, it is a very good experience! Consumption on the island will be more expensive, but it is acceptable. There are restaurants with snacks and a lot of choices to dine. If you have try the water project, you will feel the ticket package is more suitable.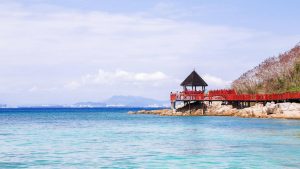 This is an independent island on Hainan Island. The island is full of flowers, trees and blue waters. It is endless, far away from the city, and it is worthwhile to make yourself quiet in the Wuzhizhou Tourism Zone.