Nanshan Cultural Tourism Zone, is the intersection of religion and Longevity culture, and the fusion of the natural and cultural atmosphere. Nanshan, facing the South China Sea, is the southernmost mountain in China. "Happiness as immense as the Eastern Sea, live as long as the southern mountain" tells the origin of Nanshan and Longevity culture. Nanshan sea goddess of mercy is 108 meters high. It is located at the seaside of Nanshan Mountain and has a bridge connection with the land. It is a landmark of Nanshan Cultural Tourism Zone and a pilgrimage site for many Buddhist believers. Count the steps all the way and walk to the foot of the Guanyin icon, then you will feel the vision is getting wider and wider, and it is surrounded by high trees, light wind, and wide sky, and feel the Brahma pure land, and then your mind is clean. In general, Nanshan is a place which is full of Buddhist atmosphere. The Nanshan sea goddess of mercy is very spectacular and grand.
Nanshan is in the suburbs. So, take a bus from Sanya to Nanshan for about an hour, and go to Nanshan to help your family pray and see the sea if you are interested. Nanshan has a large area, so you have to take the cable car, but it is recommended to make full preparation of where you want to go. There are many places in Nanshan Cultural Tourism Zone, and you can't visit all. In Nanshan Cultural Tourism Zone, there are indeed a lot of beautiful spots, but it is worth seeing the Nanshan sea goddess of mercy. You will have an unforgettable for your trip there.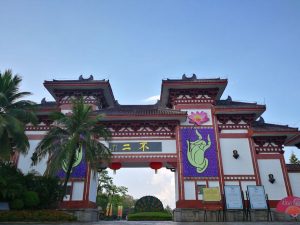 Be sure to do sunscreen, prepare hat sunglasses and sunscreen before going there. If it is a day trip to End of the Earth and the Corner of the Ocean and Nanshan Temple, it is recommended to take a battery car. Although it costs some money, it saves time to enjoy the sights. Jinyu Bodhisattva takes 20 yuan to visit, the price-performance is too low, it is not recommended to take a visit there. In general, Nanshan Temple, Nanshan sea goddess of mercy, Thirty-three Guanyintang are worth seeing in the Nanshan Cultural Tourism Zone in Sanya.