With a cool breeze heralding the beginning of fall, the stage was set for guests to enjoy a beautiful evening at Face Bar for yesterday's Where the Wild Things Are: A AsiaTravel Series with speaker Laurence Brahm. After having a chance to mingle over cocktails and hors d'oeuvres, guests headed inside as the light began to fade to hear Laurence discuss his experiences working in Asia.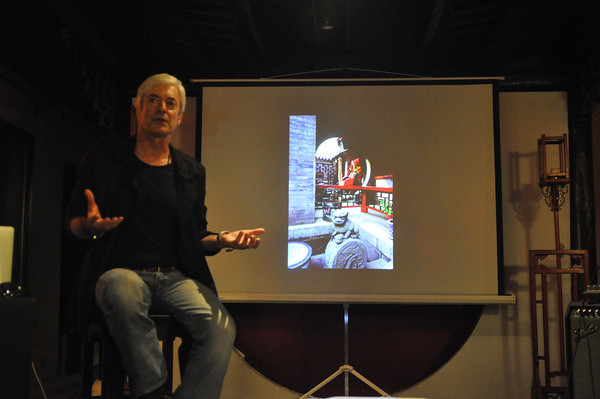 Laurence's presentation centered about his pursuit of social entrepreneurship in China. Whether it was training disabled Tibetan women to sew puppets and thereby giving them a sense of empowerment, or buying up land around the Great Wall to protect it from being turned into a tourist trap water park, Laurence has been a defender of local heritage. In addition to these projects Laurence also discussed his own hotel group Shambhala Serai. When one guest inquired what level of push-back he had received from the government for his private venture Laurence replied that it has been minimal. Laurence went on to explain that unlike an NGO, which can have financial backing that is harder to pin point, for profit organizations goals are simpler, and therefore less of a concern for the government. Helpful advice for those considering starting a business of their own in China.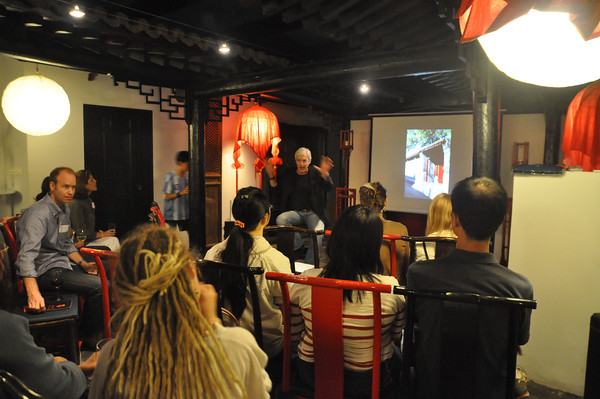 We will definitely keep an eye on Laurence going forward to see what challenge he tackles next, whatever the issue though we see no reason why he won't succeed.
———-
Our next Where The Wild Things Are: A AsiaTravel Series will feature food writer and cook Fuchsia Dunlop on October 12th. Stay tuned as full details will be coming out shortly.