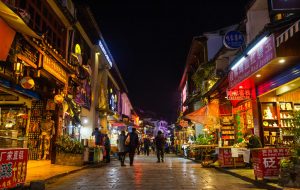 Yangshuo County is not big. West Street is the most famous street in Yangshuo. There are a lot of tourists at night, so you can go shopping during the day. Normally the tourist city has one or two old streets, whether it is a real old street or a new "old street", it will attract foreign tourists to gather here. There is also an old street in Yangshuo, Guilin, and it is called West Street, which has a lot of fame in the world.
Yangshuo West Street is located in the center of the county. It has a very long history of more than 1,400 years. In the evening of the tourist season, this street is so crowded, and it is a scenic spot where Yangshuo can be visited at night. There are so many restaurants on the street, and the traffic is huge.
West Street used to be the place where Mr. Sun Yat-sen spoke. The artist Xu Beihong once lived here. This street was also recommended by the world travel guide Lonely Planet. More than 100,000 foreigner backpackers visit the West Street each year, and more than 1.5 million tourists have a visit there each year.
The outsiders who live in West Street are three times as many as the locals. The streets are full of beer fish shops, and West Street is no exception. There are fewer tourists on the West Street during the day, and visitors who like a little quiet can choose to visit during the day.
Because there are many foreigners who come to West Street for a visit and even settle down, West Street is also very international. French restaurants, Italian restaurants, coffee shops, bars and other specialty stores have emerged. All text signs are expressed in Chinese and English. And you will feel their openness, tolerance and comfort.
The street is full of signs, and the foreigners first discovered the characteristics of this street and promoted it to the whole world. Later, everyone knows it. West Street has become a veritable global village and a foreigner street.
In the evening, the bar on the street is very lively, the heat of the day has subsided, so, don't forget to drink a beer in the West Street, look at the beautiful night scene, and relieve the tiredness of the day.