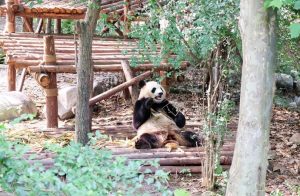 When you take a trip to the Chengdu Research Base of Giant Panda Breeding, the most important thing is to go there early, be sure to be early. If you arrive there late, you can only see a group of sleeping pandas. Even if you get there at 8:00 o'clock in the morning, the pandas that you see at the end of the day has already started to sleep. So, to make your panda itinerary enjoyable and worthwhile, do remember to arrive there earlier.
You can decide to take the sightseeing bus first to the moon's main room at the top of the axe mountain and then go down countercurrent, which will help you avoid the flow of people and make your trip easy.
The price of the sightseeing bus is 10 yuan/person, and the farthest stop is in the moon delivery room. In fact, the journey is not very long, which is about ten minutes. Even though in the earlier morning, there are so many tourists queueing for the bus. From the moon's delivery room, go down all the way, there are clear road signs all the way, and each garden is very close, so it is not too tired to walk.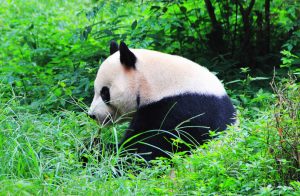 The base will start feeding the pandas at 9:00 o'clock every morning. At this time, the pandas are the most spiritual. They pay attention to eat. But when reaching the panda kindergarten, there is only one left to sleep, and you don't know where the other pandas are hiding. There is one staff living with the pandas. Yes, it's not a separate cage, they are living together, and they will chase each other and get close touch with each other. In addition to giant pandas, the panda base has small pandas, swans and other animals. The environment is very comfortable and it is very suitable for family traveling there.
If you are going to have a travel with your children in China, don't forget to visit the Chengdu Research Base of Giant Panda Breeding to see the lovely pandas there, and your kids will be very happy.