Labeled as China's very own Death Valley for its scorching heat and dry landscape, Turpan is actually very much alive with a vibrant ethnic minority culture, China's equivalent to Mecca, and deserts that bloom.
Located in western China's Xinjiang Province, Turpan lies around 150 meters below sea level and receives just 4 centimeters of rainfall each year – making it one of the lowest and driest places on the earth's surface.
Despite this, the city's ideal position on the ancient Silk Road made it a thriving outpost and melting pot of peoples from all across Asia. Islam has had a strong influence on the region and the ethnic minority Uighur people have inflected the land with their unique blend of Muslim and Chinese influences. This legacy has blessed Turpan with abundant historical relics.
We've picked out five attractions that every visitor to the region must see.
What to Do in Turpan
Emin Minaret
The cone-shape of Emin minaret, or Émǐn tǎ in Mandarin, makes a striking addition to Turpan's skyline. First built in 1777 during the time of the Qing Dynasty, the minaret was created in honor of Emin Khoja, who with the help of Qing forces wrestled back Turpan from the Dzungar Mongols.
Source: Ian Burt
While he never lived to see it complete, it stands today as a (rare) 44-meter monument to cooperation between Han Chinese and the native Uyghur ethnic group. Emin Minaret continues to attract scores of visitors and worshippers each day, with an eye-catching blend of Chinese and Islamic architecture.
Being on the outskirts of the city, it is a short 3km trip by taxi, by bike or on foot. While traveling with AsiaTravel, we can help you to organize a two-wheeler so you can get a real feel for the architecture, culture, and people of Turpan.
Jiaohe Ruins
Also known as Jiāohé gùchéng, these ruins are undoubtedly one of the world's oldest and best-preserved ancient cities, and now an important UNESCO World Heritage Site.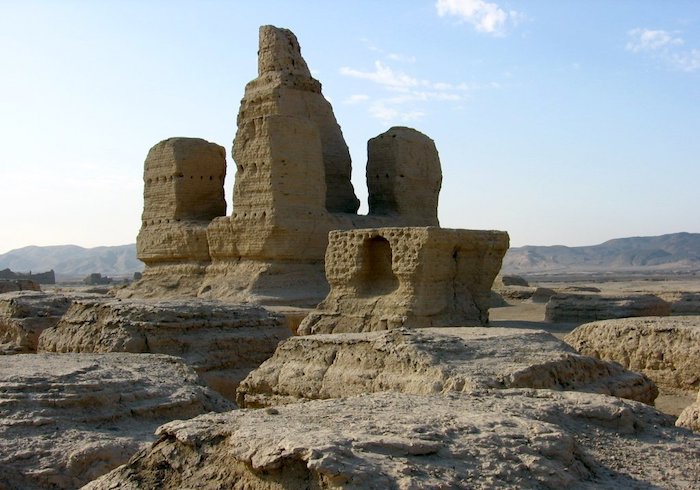 Source: Colegota
This lost city has witnessed the ebb and flow of different empires and religions, and at one point housed some 7,000 people. Yet when Genghis Khan and his Mongol army reduced the city to rubble sometime after 1209, it was quickly abandoned.
The ruins are home to a "Stupa Grove" of 100 or so Buddhist pagodas, offering a reminder of Buddhism's earlier influence in Xinjiang. Starkly beautiful, the ruins have a haunting quality, with all life drawn from them by the ravages of time and the scouring winds of central Asia.
Toyuq Village
Set in a lush valley that cuts a green path through the bone-dry peaks of the flaming mountains, Toyuq, or Tǔ yù gōu, is a key site of pilgrimage for Xinjiang's Uyghurs. Nearby tombs contain the remains of – reputedly – the first Uyghur to convert to Islam. Seven trips here are said to equal one trip to Mecca.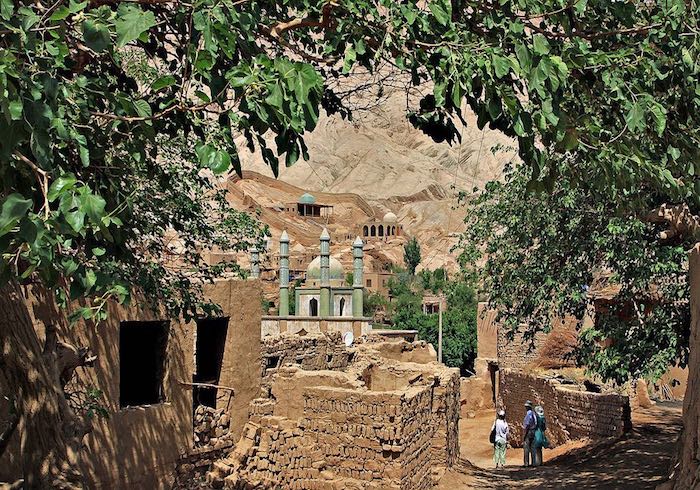 Source: Allen Grey
A sandblasted mosque, simple sandstone houses and cave dwellings possess a timeless quality, and the village's very hospitable locals ensure ample opportunities to immerse yourself in authentic Uighur culture.
If you travel with AsiaTravel, you'll even have the opportunity to lodge in a local Uighur household. Be sure to sample the village's famous grape harvest where a bumper crop of succulent grapes will quench your thirst after a long day in the sun.
Flaming Mountains
The Flaming Mountains are a range of bright red sandstone peaks known by locals as huǒyàn shān. True to form, the peaks can reach temperatures of 70 degrees Celsius during summer time, making it one of the hottest places on earth and living up to the "death valley" title the region is famous for.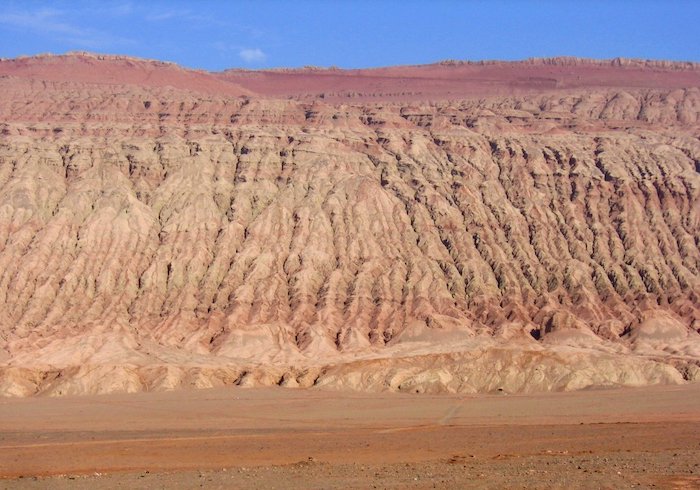 Source: Colegota
With heavily scarred slopes, the mountains give off the look of dancing flames. They were thrust into popular imagination by the classic Chinese novel Journey to the West, in which the monkey king uses a magic fan to extinguish a fire upon the mountains and safely continue his voyage westwards.
China's largest thermometer presses home how brutal the heat can be here – the soles of your shoes may soften, and you can even try frying an egg in the scorching sands.
Karez System
The Karez system, or Kǎn'erjǐng, is an ingenious underground irrigation system that brought water and prosperity to this parched region. It quite literally made the desert bloom.
By harnessing the flow of groundwater from the nearby Tianshan Mountains into the Turpan depression, water could be gravity-fed through a network of deep canals. Once stored in underground reservoirs it could then be distributed to locals, ensuring a year-round supply for agricultural settlements.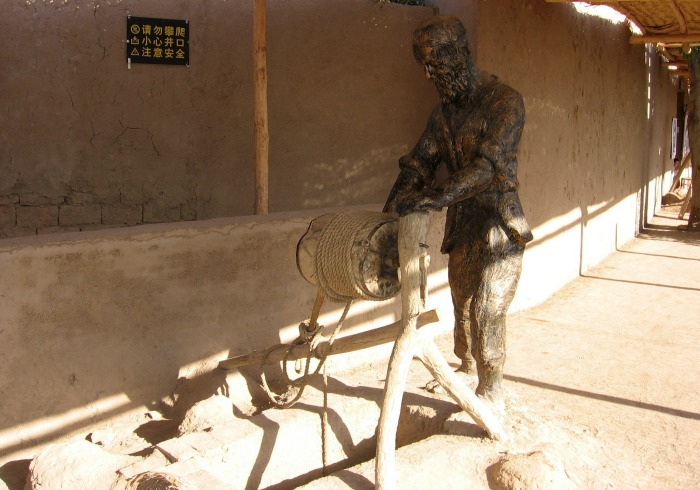 It's regarded as one of the three great projects of ancient China, alongside the Great Wall and Grand Canal. Testament to their ingenuity, many of the canals are still in use to this day, and the local museum lets you explore this fascinating feat of engineering that made Turpan what it is today.
Regardless of its moniker, Turpan continues to live on, with a multicultural mosaic of people and awe-inspiring landscapes that await your arrival.
—
Interested in the many sights of China's Death Valley, Turpan? Take your curiosity a step further on our Marco Polo's Silk Road tour where you'll be able to eat a home-cooked meal with an Uighur family and travel through the desert on camelback.