The following is an introduction to Jeff Fuchs' Tea and Mountain Journals, a blog by explorer, photographer and writer Jeff Fuchs.  Jeff is the 2011 recipient of AsiaTravel's Explorer Grant.  He and friend Michael Kleinwort are currently traveling through unknown portions of the Tsalam route in Qinghai.
Below is an announcement about their journey…
———-
The Route of White Gold
When: May, 2011
Who: Jeff Fuchs, Michael Kleinwort
Where: Southern Qinghai (Amdo)
One of the ancient world's great and unheralded trade routes was the eastern Himalayas' Tsalam, or Salt Road. Known to many Tibetans as "The route of white gold", much of its desiccated remains rest at close to 4 km in the sky upon the eastern Himalayan Plateau.
Traversing some of the planet's most remote and daunting terrain, the Tsalam passed through the snowy homeland of the fierce Golok nomads, notorious wolf packs and beneath the sacred Amye Maqen mountain range of southern Qinghai province (Amdo). Largely forgotten it remains culturally, historically and geographically one of the least documented portions on earth. The memories of a few traders carry on its almost fabled tale.
The route itself has never before been acknowledged (nor travelled) by westerners, and much like the Tea Horse Road, the last remaining traders who traveled its length are passing away and with them too, the memories of what for many was the only access path into the daunting nomadic lands.
Leading the expedition and transcribing the tale of Tsalam will be myself, with English entrepreneur and endurance athlete Michael Kleinwort joining me. Along with local nomadic guides and the odd mule, our "0 carbon footprint team" will attempt to travel the most isolated and unknown portion of the route – a remote nomadic portion from Honkor to the Maqu area.
The expedition in May of 2011 will be done entirely by foot and will access many of the last nomadic traders to document their precious recollections of travel along the Tsalam. The expedition is another of the ancient Himalayan trade routes I hope to re-expose to some light. Articles in select publications will appear upon completion of the journey.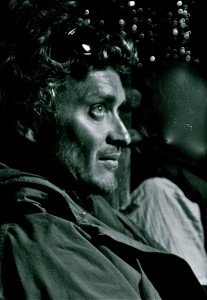 Jeff Fuchs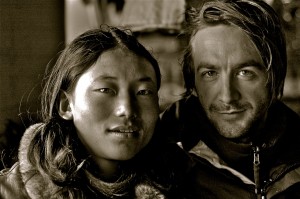 Lubden & Michael Kleinwort
———-
For more, please visit http://www.tea-and-mountain-journals.com/
Image: Jeff Fuchs