The following post was written by Jan Heininger and Jamie Reuter, AsiaTravel clients who traveled with us for two and half weeks in October of 2010.  Their journey took them through Beijing, Tibet, Yunnan Province. Guangxi Province, and finally to Hong Kong. This is the first of a series of articles he wrote detailing their experience.  We begin with their overall impression of China…
———-
Some people come away saying they "loved" China.  We didn't.  Don't get me wrong.  This was a great trip.  China was fascinating.  It had beautiful scenery.  It had lots of history and culture.  We had many very unique experiences.  Tibet was wonderful.  We saw the Forbidden City and the Great Wall.  We saw amazing scenery including the karst mountains in the Li River valley.  We saw and experienced (in our own way) the spirituality of Tibet and China.  We visited towns and areas still dominated by minority populations and tribes.  We had, alas, only a few great meals but we stayed in a number of really outstanding hotels.  We had excellent guides and drivers who gave us meaningful insights into China, its history, its culture and its peoples.  We came away with a much greater appreciation for how some of the more recent aspects of Chinese history (end of the empire, Mao, the Cultural Revolution and the change to the "new economy") have molded how people live their lives today.  We walked through "old towns" and markets established a thousand years ago.  We got a better understanding of how life works under central control.  But we didn't "love it."  We were fascinated.  We will go back to visit other areas of the country.  We were thrilled with our tour company and will use them again.  But we weren't seduced by the country's charms.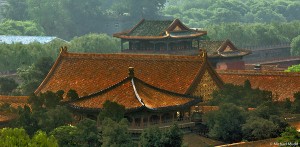 Part of our difficulties was due to the constant and sometimes overwhelming presence of Chinese tourists.  Chinese tourists are an odd group and not terribly accommodating or pleasant from a westerner's perspective.  According to conversations with several people, Chinese tourists are less interested in seeing, learning and understanding, and much more interested in taking home pictures of themselves and cheap souvenir gifts to "prove" they had been to the big city and seen the elephant (so to speak).  In the context of China's economic growth and the spread of wealth down into the middle classes and rural communities, millions of these tourists are on their initial trips out of their local communities.  They smoke a lot.  They spit.  They talk, stand up or even walk around during performances.  They push and shove to get to the front of a line – a survival skill, no doubt, in a country with 1.3 billion people.  In small numbers (anything less than several thousand), they are no worse than any other population of large groups discharging from parked ranks of tour buses.  You ignore their presence and carry on.  But for some reason, we were flooded with them.  Clearly, it was worst in Beijing, and our experience there may have made us hypersensitive to the issue throughout the remainder of the trip.  But our guides uniformly reflected on how they were seeing substantially many more national tourists than expected.  In prior years, the number of Chinese tourists had substantially diminished following their big national holiday (October 1).  This year, they just kept coming.  As an early example, I expected Tiananmen Square to be this huge, open square, just like the pictures I've seen.  Instead, all we could see were the heads of tens of thousands of tourists jamming an open space between a few monumental marble structures.  There was a 4-6 hour wait to get into Mao's tomb (we skipped it).  Given the number of people present, the square itself didn't even seem all that big.  For communities all across China, hanging out a "UNESCO Site" sign means you're guaranteed millions of dollars of revenue from tens of thousands of Chinese tourists jamming little historic streets lined with shops selling plastic crap and cheap reproductions (mostly made in Viet Nam).  You can't fault the Chinese for wanting to visit the hotspots within their own country.  But their numbers and manner definitely reduced our enjoyment and, in some cases our appreciation, for particular sights or experiences.
Second, China is clearly struggling with the size of its population, the extraordinary rate of growth in its economy and the rapid changes that are occurring in its distribution of wealth.  Improvements in their infrastructure (highways and airports in our experiences) just can't keep up.  So in any largish city (and a country this size has lots and lots of cities with 5-10 million people), traffic jams, litter, pollution, clean water, lack of functional sewer systems, crowded public transport, crowded airports and disruptions due to construction are real problems.  I saw more Ferraris in Beijing in 3 days than I've seen in Washington D.C. in 30 years.  But most of them probably never get out of 1st gear due to the endless traffic jams there.  They're like enormous pinkie rings, serving only to demonstrate the wealth of their owners.  Our trip included many, many hours in cars and vans averaging anywhere from 10-20 kilometers per hour – both in urban areas and while driving between rural towns.  Most tourist areas are struggling to deal with the explosion of tourism by Chinese nationals and foreigners, and some sites are, frankly, failing.  For example, we had to stand around for 15-20 minutes waiting for our guide to purchase tickets to get into the Forbidden City.  There was no way to pre-purchase tickets to get into sites.  And it wasn't just for our small group of two.  Even the large groups stood around waiting, increasing the sense of congestion and crowding around key sites.  They just haven't learned the secrets of how to move people along.
Finally (and there's no polite way to say this) but…  Squat toilets were not our favorite Chinese experience.  Particularly when there aren't any doors or walls between the "stalls."  And you'd better bring your own toilet paper because you won't find any outside of luxury hotels and airports (and even some of the airports only had squat toilets.)
I remember when my Grandmother Miller visited us in Germany back in the 1960's and said something like "Germany would be a great place if it just wasn't so full of foreigners."  That's been an inside, Reuter family joke for years.  I am very uncomfortable with the fact that my feelings about our China trip include even a tiny hint of this incredibly ethno-centric view.  I really do believe that I'm much more cosmopolitan than that.  But it can't be argued that in the end, we just didn't really "love" China as a country, and these were some of the reasons why.
Our tour company was AsiaTravel.  We could never say enough wonderful things about how well they actually performed.  They provided everything promised, including cars and beds big enough for Jamie.  Their guides were terrific: very helpful, informed and flexible.  While dealing with our early arrival is the best example of their flexibility, we regularly had conversations with our guides about the various options we had for spending a day.  They quickly picked up on our desire to skip the obvious and crowded and go for things that were more unusual and interesting.  They knew where the shops with "quality" goods were, and took us there.  They were very open about their own lives and experiences.  They taught us a lot about what it was like to live in the "new China."  We highly recommend AsiaTravel to anyone planning a trip there.  They will work with you to create the type of trip you want, and then deliver it.  A very good friend of ours, who has travelled extensively, went on a 12 day trip to Yunnan, departing two days after we returned, and spent time in many of the same places we visited.  She used one of the "usual" tour companies.  The contrast between the two trips was remarkable.  If you're going to China, use AsiaTravel.
Weather wise, we sort of lucked out.  The rainy season was supposed to have ended.  But everyone kept talking about how weather patterns had been delayed this year and that we were still in the tail end of the rainy season.  Weather.com kept predicting rain – with daily precipitation probabilities ranging from 60-80% for weeks at a time.  In reality, we had serious rain for only two days: one in Beijing (when we visited the Summer Palace and Temple of Heaven in our rain gear and under umbrellas) and one in Kunming (when a break in a steady rain let us wander around the Stone Forest without get too wet).  On the other hand, it was generally cloudy, overcast and about 10 degrees (Fahrenheit) colder than we expected.  While Jamie never put on his wool cap and gloves, he only wore his shorts and polo shirts after we got to Hong Kong.  Jan packed too many shirts with three-quarter sleeves and was stuck wearing her 2 long sleeve shirts day after day after day.  Neither of us even got close to putting on our bathing suits.
———
Stay tuned for more tales from Ms. Heininger & Mr. Reuter's journey.  For more information about the destinations they visited, check out our destinations map here.