Continuing with the travel series written by AsiaTravel travelers Janet Heininger and Jamie Reuter, we move on to their next destination. Stop 2 – Lhasa, Tibet…
———-
On Tuesday, October 19, we flew 3,000 km to Lhasa, Tibet on Air China, changing planes in Chengdu.  Our Air China flight was just fine, even in economy class.  Leg room was barely adequate but people didn't seem to lower their seat backs as much as in the US.  All internal Chinese flights advertise a strict weight limit of 20 kgs per checked bag and 5 kgs for a limit of one carry-on (plus a purse or small bag).  While we met these requirements on all seven of our internal flights, we ultimately decided that the rules weren't very strictly or uniformly enforced any more than they are in the US.  The new Lhasa airport is way out of the city (90 kms.).  After being met by our guide, Nyima, and our driver, we went to our hotel and crashed.
Lhasa's urban area is at 11,800 feet and has a population of around 300,000, up from around 10,000 in 1959.  It was one of our favorite places on this trip.  Due to the risk of altitude sickness, we both took Diamox as we had in Peru and had no problems with headaches or the altitude at all—even when hiking.  As an oddity, you should know that, in spite of its size, China operates with only a single time zone.  In any other county that large, you would expect to have 4 or even 5 different time zones.  But here, everyone is on Beijing time.  People in the western sections merely follow the sun more than the clock when it comes to scheduling things and routine work hours vary accordingly.
The political situation in Tibet is fairly complicated.  But in very brief summary, Tibet was founded as the religious and administrative center of Tibetan Buddhism in the 7th Century.  Until 1959 when the most recent reincarnation (literally) of the Dali Lama went into exile, the Potala Palace was also the earthly home of the leader of the Yellow Hat branch of Tibetan Buddhism.  Tibetans clearly feel they should be independent.  China, with the backing of its armed forces, the People's Liberation Army (PLA), clearly has indicated that it has no intention of giving up its jurisdiction over the Tibetan plateau even though it has given it the cosmetic, official name of the "Tibetan Autonomous Region."  With PLA forces clearly in evidence, China continues a not so stealthy take-over by sending ever more Han Chinese (the ethnic group most prevalent in Beijing and NE China) to live in the area.  Roughly 1/3rd of the population and ½ of Lhasa's population is Han Chinese.  It had one very good hotel, with a super luxury St. Regis Hotel to open just after we left (11/15).
Our hotel was the very good one, the Four Points run by Sheraton.  It was quite nice (4+ stars) but not spectacular: very comfortable, clean, modern, good service, quiet, good breakfast (the standard fare), good views of mountains, and walkable distances to main sites (although taxis and pedi-cabs are both cheap).  It had a spa (as did most of our hotels), but we never seemed to get around to using them.  Our guide, Nyima, was terrific.
The dominant characteristic of Lhasa is its spirituality.  To begin, there are simply all of the local monks, monasteries, nuns, and nunneries, and various temples and holy sites.  According to our guide, we happened to be there at a special time on the calendar – the first full moon after the harvest.  As a result, thousands of Tibetan Buddhist pilgrims and nomads, many in traditional, tribal costumes, were in the city and surrounded its religious sites.  Pilgrims had lots of traditional activities including:
Circumambulations: walking clockwise around a religious temple (or site, or city, or monastery, etc.).  As an example, there was a huge crowd (6-10 people wide) that made a continuous ring of people walking around the Johkang Temple.  Always clockwise.  A few very rude tourists might go the other way, but Nyima (our somewhat spiritual guide) never would have let us do it.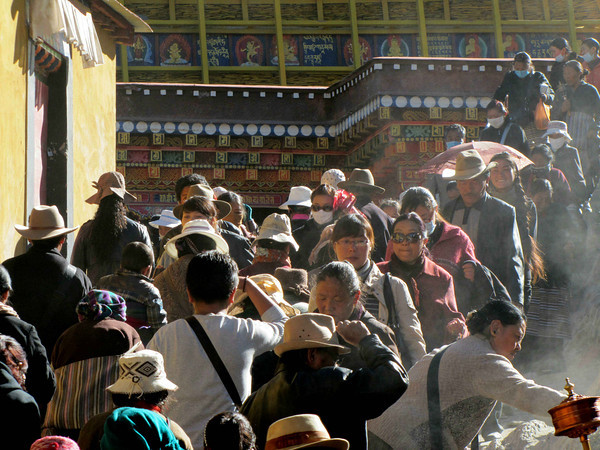 Prostrations: repeatedly stretching out face down on a mat, arms and hands extended out toward a temple or icon and then returning to a standing position, hands folded.  Repeat indefinitely.  This was like watching an aerobics show in slow motion.  Whole crowds would be doing it, each independently.  Old people.  Young people in stylish clothes.  Kids.  Nomads in traditional garb.  Sometimes they did this in place.  Sometimes they would embark on a circumambulation made up of repeated prostrations.  So while circumambulating, you might suddenly see this person stretched out on the ground, making their way around a holy site, one body length at a time.  The crowd barely noticed, and simply flowed around them on their own circumambulation path.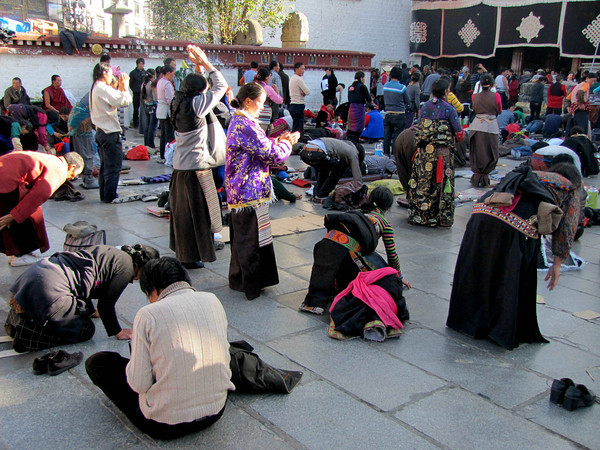 Burning incense: Scattered around the holy sites were huge, white, 15 foot tall incense burners.  Actually more like furnaces, they spewed out clouds of white smoke and smell.  Once, one was so full that flames were shooting out of the top.  People constantly tossed in more incense as offerings.
Burning Yak butter candles: mostly an indoor activity.  In and around temples, there would be these urns of yak butter with 10-30 burning wicks.  Pilgrims carried tubs of yak butter and they would periodically add a scoop or so to a candle as an offering as they passed through a temple.  Sometimes the floor was greasy with spilled yak butter and you had to be careful how you walked.
Donating money: All of the local religious institutions survive on community donations.  So everyone is constantly leaving money behind.  Even our guide, Nyima.  While I'm sure that he visits many of the sites with tours 2 or 3 time each week, he still (very discreetly) would take a one Yuan note (about 15 cents) and stick it in a crack by a Buddhist statue, or drop one in a pile of other bills near a particular altar.  Sometimes he prostrated himself before a particularly important shrine.  Once, after we spoke with a group of nuns who were burying a new pipe (in very rocky ground) for the water supply for their nunnery, he walked out of his way to drop off the equivalent of $3 US to (according to his instructions) buy some extra food for the four hard-working nuns.
I could go on and on about prayer flags, monks and monasteries, religious icons and art, and so on.  It was never overwhelming at any particular moment (unlike the tourists in Tiananmen Square).  But after 3 days of being confronted with this stuff, it became a little awe-inspiring and deeply moving.
Food in Lhasa was just fine–nothing special but a lot better than in Beijing.  One of the hallmarks of Wild China is that meals are covered and they were mostly in local restaurants – generally ones not patronized by other westerners.  We really appreciated and enjoyed our eating experiences, even when we weren't crazy about the taste.  They did have really good cucumber salads.  I had yak steaks a couple of times.  One night we went to a very tasty Nepalese restaurant.  One night we went to a small restaurant with an OK buffet dinner and saw an after-dinner show of traditional Tibetan music, costumes and dancing – interesting and worth while.
In spite of the altitude, the weather actually was warmer than in Beijing.  We had partially cloudy skies with some sun that provided stunning views of the surrounding, snow-covered mountains.  (Weather.com said 80% chance of rain daily for our entire visit to Tibet).  It would be quite cold in the morning and at night, yet warm up during the day so we'd have to roll up the sleeves of our travel shirts.
Our first day in Lhasa began at the Potala Palace.  This iconic red, white and gold building has over 1,000 rooms and 10,000 shrines, and sits atop a 1,000 foot tall mountain in the middle of the city.  The first palace on this site was built in 637 AD.  The most recent version was completed in 1694.  The white parts are a blinding white.  They were close to finishing the new, annual coat of white wash.  Apparently, they just pour it on (the walls angle out slightly) and it just runs down the side.  As a result, you have to be careful where you sit or what you lean against because white dust is everywhere.  The only way up is a long series of stairs which you share with pilgrims.  Pilgrims get in free, tourists pay and are limited to 2,300 tickets per day.  Pictures and words really don't do this place justice.  You can just feel its age.  Once inside, you're following a path through murky, dark rooms, up and down ancient, wooden stairs, through chapels and shrines, mixing with various pilgrims, while smelling burning yak butter and incense.  It has to be experienced to be believed.  2 hours after entry, we popped out on the other side and made our way back down a long series of stone stairways.
We then went to a very odd place known as Sanje Tongu–also spelled Sangye Tungu.  As far as tourist guide books or even encyclopedias are concerned, this place doesn't even exist.  It's tucked in behind Chokpori, one of the three "sacred" mountains within Lhasa.  After walking through several narrow streets lined with market stalls (too narrow to drive), you come to a small open space.  One side is a tall, flatish stone surface on the backside of Chokpori, 60 feet tall by 120 feet wide that is covered with sacred carvings and paintings of 1,000 Buddhas.  Nearby is a smoking incense burner.  There is also a flat surface for people who are doing their prostration rituals.  There is also a special new sort of pyramid.  It is made up of tens of thousands of flat pieces of slate on which special prayers have been carved.  This stack of slate prayers is 50 feet tall, and you can circumambulate around it (clockwise of course) while spinning prayer wheels and chanting a mantra – om mani padme hum.  (We did the walk and the spinning but didn't chant much.)   It was a quiet, private place where people came to pay spiritual homage and a special place to visit and experience.  Apparently, this site is considered very sacred and used to be the location of a Tibetan school for traditional medicine which was destroyed by the Red Guard during the Cultural Revolution in the 1960s. But it is slowly being recreated by Lhasa's devout residents.
Later in the afternoon, we went to the Sera Monastery on a hill at the edge of town.  The unique aspect of this place is its school for monks.  Every afternoon at 3:30, the students and teachers come to the "Debating Courtyard" for debates.  That is, they have a lesson in the morning.  They meditate on their lesson.  Then in the afternoon, they gather in little groups of 2-10 monks, some teachers and some students, and begin a question and answer style debate.  It was very loud and boisterous.  They speak loudly.  They laugh and obviously challenge and argue with each other.  And when they make what they think is their best point, they do this combination loud hand clap and pointing gesture.  It was very interesting to watch.  Some monks appeared to be playing to the 50 or so tourists watching with video cameras from the edges though that might merely have been our interpretation since there apparently is a set of ritual gestures used for these debates.  Others were clearly involved in serious, intense discussion and debate.  Our guide said that most of it was kept real by the teachers present who guided the discussions.  We found it fascinating to watch.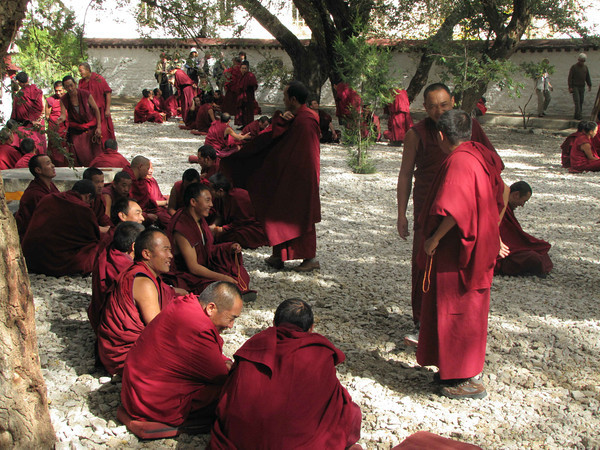 On our second day in Lhasa, we begin at the Pobonka [also known as Pabonka] Potrang monastery.  It was 7 kms outside the center of the city and up about 1,000 feet (12,800 feet altitude).  Its principal claim to fame is a small cave that was used by the founder of Tibet for meditation during the early 7th Century.  Currently, it has only small number of monks.  After a brief visit, we hiked up a trail (gaining another 500 feet in altitude) to the even smaller Thasi Shu Lin [also spelled Thasi Chöling] hermitage.  While climbing slowly and steadily to avoid oxygen deficit, we saw thousands of strings of prayer flags hung across gullies to catch the wind.  The wind is presumed to spread the beneficial thoughts on the flags across the valleys below.  So, the more wind the better.  Thus, you always see collections of these flags in places with good wind, like the tops of mountains or across rivers, streams and gullies.  After crossing a ridge, we descended a winding path to the Bakhue [also known as Chupzang or Chubzang] nunnery.  Here we encountered the nuns burying a new plastic water main to bring fresh water down the mountain into their cistern.  This nunnery is also known for its political activism.  Many members were arrested during political demonstrations in the late 1980s against Chinese occupation.  This political activism may be due, in part, to the fact that the original nunnery was destroyed by the Red Guard during the Cultural Revolution and was only recently rebuilt.
After lunch we visited the Jokhang Temple, the most sacred temple in Lhasa.  It was originally built in 642 AD.  By now, you can guess the drill: lots of pilgrims (some in native dress), burning incense and yak butter candles, crowds of people doing circumambulations and prostrations, dark shrines with statues of various protectors, each stuffed with one Yuan bills.  Inside, this temple has one of the most venerated statues of Buddha.  Outside is the Barkhor, a key path for the circumambulation around the Jokhang Temple.  It is also the central marketplace, lined with stalls selling a whole variety of stuff to the pilgrims while their do their walks.  For sale is everything from everyday clothes, to religious stuff, scarves, art, and even a few very high quality shops.  Jan and I spent some time shopping and came home with an original thangka painting of a Buddhist figure known as the "White Tara" (the bodhisattva or goddess of longevity, compassion and health), whose male counterpart is Amitayus.  We almost also bought a really fascinating picture of Jambhala, the Buddha of wealth and prosperity.  After some consideration, we decided that displaying it at home would be a little too much like creating a private altar to greed.  So we passed (although we probably shouldn't have since it really was a cool painting).  We also shopped for a Tibetan rug.  However, it turns out that hand-made Tibetan rugs cost just as much ($2-5 K) as hand-made rugs in Turkey or Morocco – or Tibetan ones in NYC, and though we need a rug for the breakfast room, we don't need one at that price.
During the morning of our last day in Lhasa, we went back to a couple of sites (Jokhang Temple, Barkhor and Sanje Tongu—) to complete some purchases.  We also took the opportunity to tie several long white scarves we had been given as traditional greetings around a pole near the Jokhang Temple to seek protection for the remainder of our trip.  Nothing bad happened over the next week or two, so it must have worked.  In addition, this was a most special, full-moon holy day, and so the pilgrims were out in huge numbers and the incense furnaces were belching smoke.  There was even a line of pilgrims doing a circumambulation of the entire city.
Given the density of pilgrims, the Chinese army had to make sure that their presence was obvious and noted.  Periodically you would see small patrol units marching to their assigned areas around the city.  They would just march down the middle of a busy city street, ignoring traffic and lights and basically expecting everyone and everything to get out of their way.  This is, of course, very rude.  But it probably also is very effective as demonstration of their literal dominance and control.
We drove back out to the airport around lunch time.  We had a great noodle soup with fried bread sandwiches stuffed with beef at a little dive near the airport.  It was the best meal of the trip so far.
———-
Janet and Jamie traveled with AsiaTravel in October of 2010.  For journeys to Tibet, check out our website here or contact us at info@wildchina.com. To read the other parts of their journey, see the following articles:
Thrilled with our tour company, but not seduced by China
It's not rudeness; it's simply cultural norms.
Photos & post by Janet Heininger & Jamie Reuter.