ANNOUNCEMENT: Travel bans to Tibet are expected to be lifted by the end of July.
Bans in 2011 have been said to be implemented on account of two major anniversaries – the 60th anniversary of the signing of the Seventeen Point Agreement for the Peaceful Liberation of Tibet on May 23, 1951, as well as the 90th anniversary of the founding of the Chinese Communist Party on July 1, 1921.
The destination will open its doors to visitors just as the rainy season begins to fade. To begin planning your journey to Tibet, please submit an inquiry here or e-mail us at info@wildchina.com.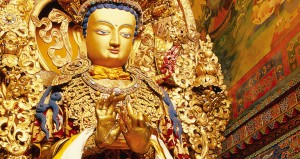 Buddhist art in Lhasa