Students at THINK Global School really got to experience Yunnan with a different perspective.  AsiaTravel exposed the students to Dongba culture, Tibetan language, and Tiger Leaping Gorge, among others.  Photographer / videographer Lindsay Clark put together some footage from the morning market in Shaping.  The class thrived off of the interactions with locals: "Snapping photos, speaking in Mandarin, trying new foods – everyone takes their own approach to this outdoor classroom." (Clark, TGS)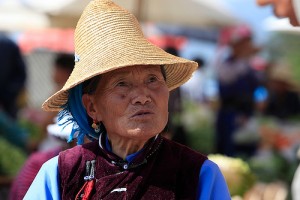 Woman at rural market outside Dali, China
At the Zhonghe Temple in Dali, AsiaTravel Guide Zhang Jiong shared his knowledge on luck.  Check out the students aiming for good fortune.
"Zhang Jiong explains the meaning of the Fu symbol that sits in front of a Chinese temple. Students at THINK Global School spin three times – eyes closed – and try to touch the symbol to bring good luck to their families; a little lesson and humor atop the Dark Green Mountains in Dali, China." (Clark, TGS)
Still, Brad Ovenell-Carter the Head of School felt, "The visit to the Zhonghe Temple was too short.  It would have been nice to stay at the hilltop for a while, perhaps to hold a drawing class and share a cup of tea."
Thanks for the feedback, Brad!  AsiaTravel will definitely note this on our future journeys there.
———-
For more information about educational journeys to Yunnan, contact us at education@wildchina.com.
Photo by Brad Ovenell-Cartner, Videos by Lindsay Clark of Think Global School