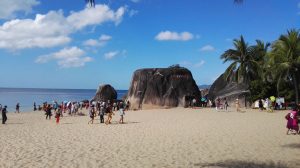 The End of the Earth and the Corner of the Ocean is a long-established attraction in Hainan. It is a panoramic view of the stone carvings such as "Tianya Stone", "Haijiao Stone" and "Nantianyizhu". The sea is clear, the smoke is very good, the sails can be seen everywhere in the sea, and the coconut wind and the sea rhyme are enjoyable. Just taste the beauty of the world and experience the romantic love story there.
Early in the morning, you can come to The End of the Earth and the Corner of the Ocean. At noon, the sun is shining and just walk on the road leading to the horizon, enjoy the beautiful scenery of high coconut trees, banana trees, dense vegetation and green and yellow lawns, which have already offset the heat of the sun and the reef. And move forward with the shore's rhythm. The word End of the Earth and the Corner of the Ocean symbolizes the distance, but as a memory of place name, it is so famous.
Route recommendation: The End of the Earth and the Corner of the Ocean includes the Tianya shopping village, the ethnic customs garden and the historical celebrity sculpture garden on both sides of the gate. And you won't need spend too much time playing these three places. Then you can go straight to the octagonal square, which is located by the sea, and the sea view is very good, and you will see that there are two boulders standing on the sea opposite the octagonal square, and they are engraved with the words "day" and "month", which is "Riyue Stone", also known as "Love Stone." Next you can walk to the right along the coast and walk to the terminal of the battery car, then down the beach. After about 2,000 meters, you will pass through two scenic spots, namely, Hai Pan Nan Tian and Nan Tian Yi Zhu. Continue to travel about 400 meters, there will be the "Tianya Stone" and "Haijiao Stone" attractions, where you can stop to take photos and feel the charm there. After the tour, return back along the tree-lined road "Tianya Road".