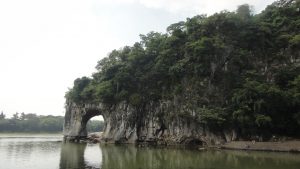 After entering the gate of the scenic spot, you can see the elephant's logo everywhere. Elephant Trunk Hill is free to the public in Guilin before 9:00 am, and it is also convenient for morning exercise. However, the entire scenic spot has been blocked. If you want to take photograph of the Elephant Trunk Hill without entering the scenic spot, it is impossible.
To take a panoramic view of Elephant Trunk Hill, if you enter from Gate 1, you should pay attention to the small bridge on the left-hand side to go to the other side. If you go straight ahead, you will climb the Elephant Trunk Hill cave. The overall height of the Elephant Trunk Hill cave is not high, but the steps are steep, and you need to be careful when climbing up and down. At the highest point, you can overlook the city of Guilin. The Elephant Trunk Hill from this perspective is still very beautiful, and the shape of the elephant trunk is extraordinarily realistic.
Elephant Trunk Hill, as a symbol of Guilin, is almost a sea of people, and photography can only be robbed to get a best position. In addition to the iconic Elephant Trunk Rock and the Xiangshan Wine Cellar, you can also visit slowly. The water inside is very clear, and standing on the pebbles are still a little painful. There are embarrassing elephants in the shape of a dinosaur sculpture. When seeing the stream in the Elephant Trunk Hill Park, the children are quiet immediately, and then they are having fun in the creek.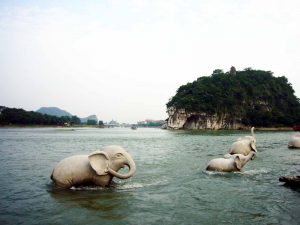 The most striking thing inside the Elephant Trunk Hill Park is the praying tree with red ribbons and bells. Many tourists hang the sachets or red ropes on the trees, and then circle the tree clockwise to make their wishes. There are also several love-themed statues there. They are deeply affectionate, or have a kiss, which adds a lot of love and sweetness. The trees on the hill are lush and the exquisite pagodas are dotted around them. The rivers under the hill are quiet and clear, and the bamboo boats on the river are fluttering. Such mountains surround such waters, and such waters reflect such mountains, and the mountains and rivers depend on each other, to make it as in the paintings.