When you arrive in Lijiang for the first time, you will be impressed by the beautiful scenery of the bridge and river here. Dayan Ancient Town, Shuhe and Jade Dragon Snow Mountain are the best places to learn about Lijiang, and the mysterious Lugu Lake is beautiful. You will be intoxicated between the great lakes and mountains. In Lijiang, you can be a wayward child, let go of the annoyance of life, enjoy the fantasy, and enjoy the warm sunshine here; or take a hike through to feel the beauty of nature and mountains; you can also be intoxicated at looking forward to an unexpected love at one night. Healing, escorting, crossing, searching, dazing at everything around you. Lijiang still has a lot of unknown charms, which are waiting to be discovered here.
Being one of the most famous towns on the ancient Tea Horse Road, Lijiang Ancient Town has a history of 890 years. In the ancient city, it features the wooden building, the grey tile, the ancient street stone alley, the small bridge and flowing water. Standing on the east street of the ancient city, you can look at the Jade Dragon Snow Mountain from the head.
Being one of the two ancient cities in China that has successfully declared the world's cultural heritage with the entire ancient city, the Lijiang Ancient Town is one of the distinctive features and styles of Chinese folk dwellings. The Lijiang Ancient Town began to take shape in the Southern Song Dynasty. Since the Ming Dynasty, the Lijiang Ancient Town was called "Dayanxiang", because it is located in the center of Lijiang Dam, surrounded by green hills, and a green water between the wilderness is like a piece of jasper.
Official Telephone number of the Lijiang Ancient Town: 0888-5116666; 0888-5119111
Visiting time reference: 1 day
How to go to the Lijiang Ancient Town: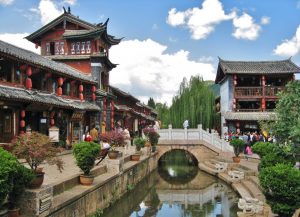 Bus: Take No. 4 and No. 18 bus to Zhongyi Market and get off and then walk for about 1 km to arrive in it. Take No. 2 and No. 13 bus and get off at Ancient Town Parking Lot Station, or take No. 7 bus to get off at the department store, then you can walk from the north gate of the ancient city to enter it. You can also take No. 2, 3, 12 bus in the city and get off at Nanmen Street Station and walk to the south gate of the ancient city.
Ticket: free.
Open time: throughout the day.