South Putuo Temple is located on the edge of Xiamen University, so you can spend the same day playing with Xiamen University. It is a Buddhist temple which is famous in southern Fujian and even the whole country. If you are ready to pray, you may wish to come here to worship. In the back of the temple, it is the Five Old Men Peak, which is also one of the eight scenic spots in Xiamen. If you want to visit the mountain, you can also climb the mountain.
There are two mountain gates on the periphery of the temple. The east gate is close to Xiamen University and the west gate is close to the Bell and Drum Tunnel. The distance between the two gates is very close, so you can choose to go in the temple in any one of them. The FREE LIFE POND is in the middle of the two gates, with turtles inside and lotus ponds in front.
South Putuo Temple is very small, if you are not ready to climb Five Old Men Peak, you will finish you tour in the temple very fast. The main buildings include Tianwang Hall, Daxiong Hall, Dabei Hall, Zangjing Pavilion, etc., and on both sides of the temple, it has a bell tower and a drum tower, the charity building on the left side and the right-hand Pu Zhao Building is corresponding to each other, to make it very majestic.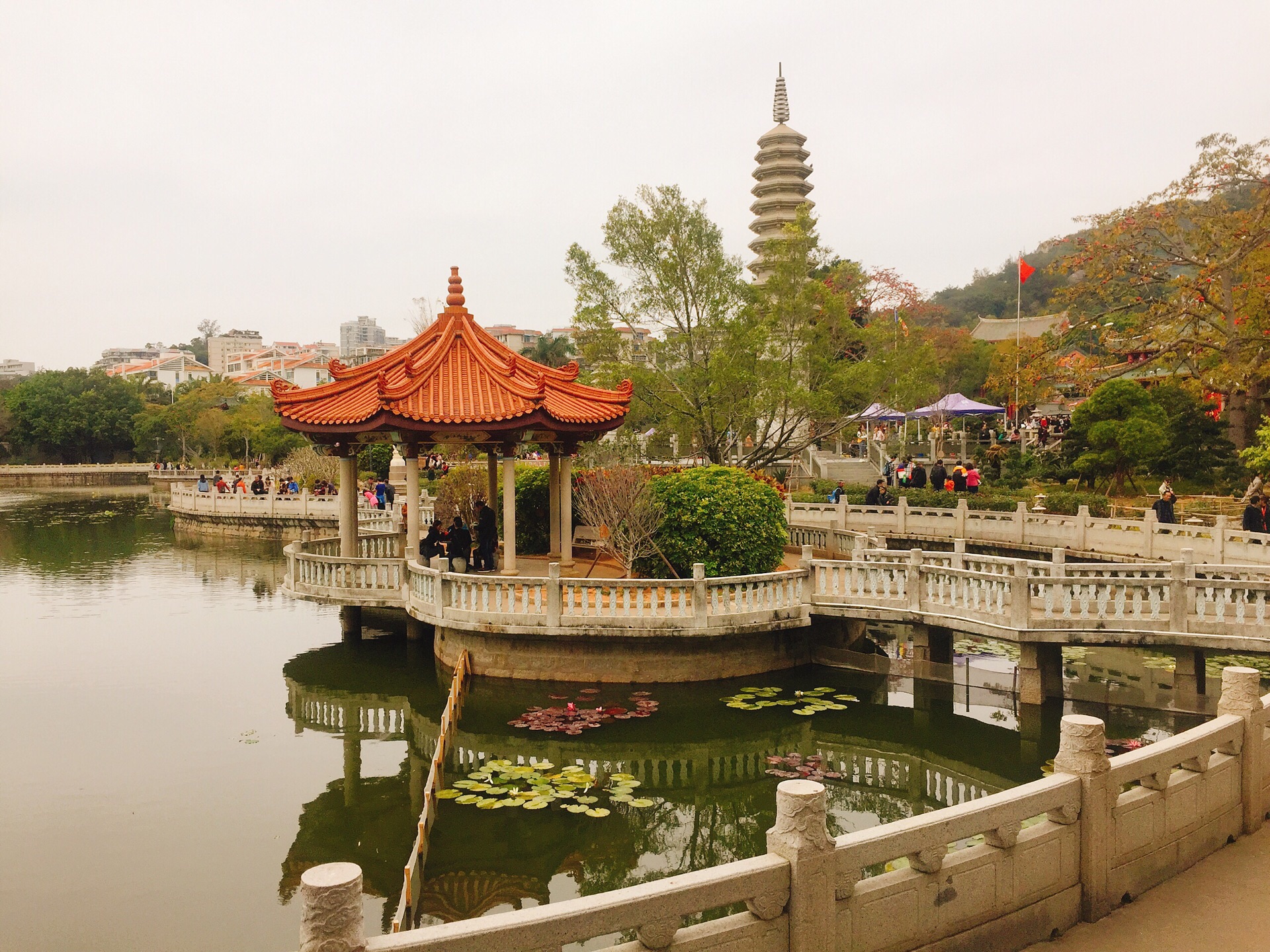 Tianwang Hall is the first hall of South Putuo Temple. After entering the gate, you can see Maitreya Bodhisattva. Generally, worshiping Maitreya Buddha is mainly seeking for luck and wealth. The Daxiong Hall is dedicated to consecrate the Three Holy Saints of the West. The Dabei Hall is dedicated to Guanyin. In the Zangjing Pavilion, you can see all kinds of treasured Buddhist relics.
Pu Zhao Building is a place to eat vegetarian food, which is about 59 yuan per person, and you can consider eating here. The vegetarian food of the South Putuo Temple is still very famous, and has also won awards. You can just have a taste.