The following is an excerpt from an article in The Wall Street Journal by Mitch Moxley, a Canadian journalist with national and international reporting experience. He's written on politics, travel, business and other topics from China, Mongolia, Japan, Vietnam and the Philippines. He is currently based in Beijing, China.
———-
The ride from Chengdu to Danba Valley is one to be endured, not enjoyed. The journey is by a smoke-filled bus with tiny seats that barrels deep into the mountains of western Sichuan province, shaking and rattling on a single-lane road that is often strewn with fallen rocks. A hair-raising view out the window is of the Dadu River below.
This is the route to one of China's most enduring architectural mysteries. Ten hours and 400 kilometers into the journey, the valley opens to reveal green mountains topped with snowy peaks. On a ridge above stand a half-dozen rock towers, like ancient smokestacks.
The Secret Towers of Western China
James Wasserman for The Wall Street JournalOne of the many multi-faceted towers in the village of Suopuo, Danba County, Sichuan, China.
Across the remote, earthquake-prone regions of western Sichuan and Tibet, there are hundreds of these structures. They are built of cut stone, brick and timber, date back as far as 1,700 years and stand up to 50 meters tall. No one is sure of their purpose, though theories abound: They were watchtowers, way stations, status symbols. Some say they have religious meaning.
Striving to save the towers from the forces of neglect, earthquake and a planned hydropower dam are a small number of preservationists, including Frédérique Darragon, a 61-year-old global adventurer—sailor, dancer, trekker, polo player— turned amateur archaeologist by her love for these mysterious structures.
The daughter of a wealthy Parisian inventor and machine maker who died when she was 4 years old, Ms. Darragon spent childhood summers riding horses in England and winter breaks skiing in the Alps. She worked on a kibbutz in Israel and in 1971 sailed across the Atlantic in the first race from Cape Town to Rio de Janeiro. She returned to Paris, graduated from university there and then did some work as a model—"Not high fashion," she says, "just for extra money"—played polo in Paris and Buenos Aires and became a lauded samba dancer in Rio.
During the early '90s, Ms. Darragon spent several months a year traveling alone through China, often by foot in areas that are still rarely visited by Westerners. It once came close to killing her: In 1993, while searching for endangered snow leopards in Tibet, she suffered a stroke when a fire she built in a cave consumed too much of its oxygen supply. She lay for three days before being rescued by Tibetan shepherds.
Three years later, Ms. Darragon saw her first towers, while traveling near Danba. A year after that she saw similar towers in Tibet—800 kilometers away—and was hooked. "When I learned that neither Westerners nor Chinese had researched them and that practically nothing was known about them, I could not resist trying to crack their mystery," Ms. Darragon says of her long affair with the ancient towers.
The Danba Valley, home to ethnic Tibetan and Qiang villages, is one of the best—and most accessible—places to explore the towers. Five kilometers from Danba city (danba means "town of rocks") a series of sprawling villages collectively called Suopo has about 80, some in ruins but many still standing, and some of them more than 30 meters high.
Until recently, nobody knew the towers' age with any real degree of certainty. There are references in texts from the Han Dynasty, which lasted for about 400 years starting in 206 B.C., but the peoples who historically populated the tribal corridor of Sichuan and Tibet lacked a written language, so there was no documentary evidence of the towers' origin. Chinese archeologists had taken scant interest in the riddle.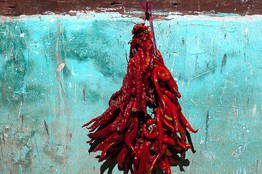 James Wasserman for The Wall Street JournalChiles hang outside a window in Danba County.
It was a linguist who wrote one of the first papers on the subject, in 1989. Sun Hongkai, now retired from the Chinese Academy of Social Sciences, had first seen the towers during a 1956 visit to Sichuan to investigate the Qiang language. "People in the area did not pay attention to the towers," Mr. Sun says. "Many were destroyed during the Cultural Revolution. People used the stones for building materials."
In the 15 years since Ms. Darragon was drawn to the mystery, she has devoted much of her life to cataloging, dating and fighting to preserve hundreds of the enigmatic stone skyscrapers.
In 2001, with funding from U.S. media mogul Ted Turner, a fellow sailing enthusiast she's known for decades, she created the nonprofit Unicorn Foundation, dedicated to education and humanitarian projects.
"I'm very proud of Frederique and the work she's done in China," Mr. Turner says. "Her amazing discoveries are astounding, and her commitment and dedication to the preservation of some of China's great artifacts and structures will always be admired and respected."
————
To read the full article, click here. To inquire about journeys to see these towers in Sichuan, please e-mail info@wildchina.com.