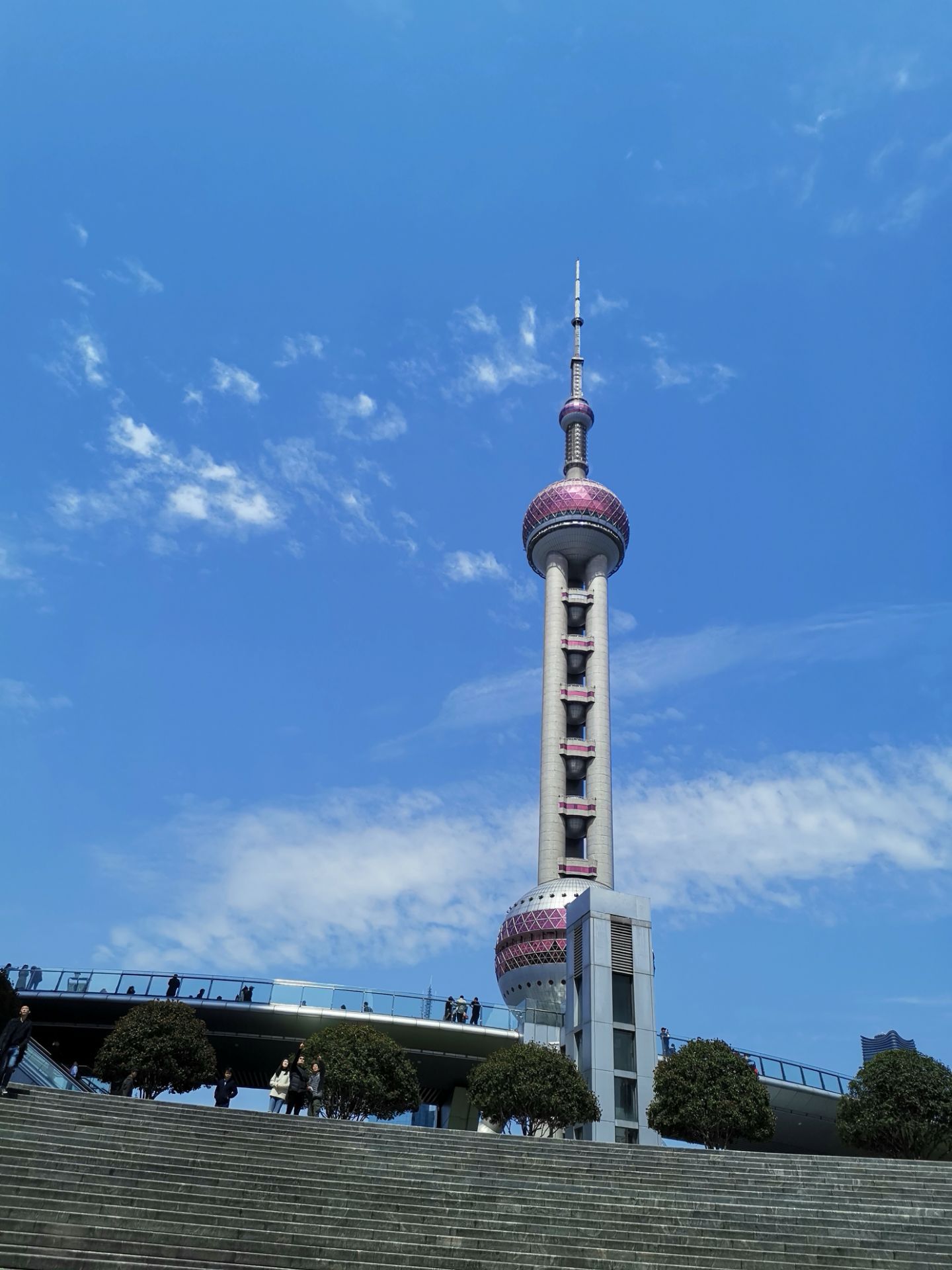 The Oriental Pearl TV Tower is located in Lujiazui, Pudong, Shanghai. The tower is 468 meters high and is divided into three spheres. There are space capsules, rotating restaurants and Galleria. The 50-meter-high ball is the main sightseeing layer. The middle ball at a height of 259 meters is the 259m transparent observatory. At 350 meters in height, the capsule shows the sci-fi glamour of the space scene. This is Shanghai's iconic building, and it is a must-see attraction for every visitor to Shanghai. In addition to the unique features of the building, there is also the City History Museum, which tells the past of Shanghai's urban development and gives you a more detailed understanding of Shanghai's past.
Against the backdrop of blue sky and white clouds, the Oriental Pearl TV Tower looks extraordinarily enchanting. The Oriental Pearl TV Tower is more majestic when it is seen from Pudong River. On the observation deck in Puxi, the Oriental Pearl TV Tower and some buildings in Lujiazui have a lot of beauty together.
Standing on the top, looking down at the Huangpu River, you will feel that it is very beautiful, and the entire Pudong River has a panoramic view, and the surrounding financial buildings are full of urban sense.
The traffic to the Oriental Pearl TV Tower is very convenient, you can just take the subway from Nanjing Road. Compared with other buildings, Oriental Pearl TV Tower has more oriental charm.
The Oriental Pearl TV Tower is one of Shanghai's iconic cultural landscapes. It was built in July 1991 and put into use in May 1995. It is responsible for six sets of wireless TV which are launched in Shanghai with a radius of 80 kilometers. The Oriental Pearl TV Tower is the first batch of AAAAA-level tourist attractions in the country. In 1995, it was listed as one of the top ten new landscapes in Shanghai.
In Shanghai, it is worth visiting Shanghai Oriental Pearl TV Tower. The night view of Shanghai is really beautiful. It is recommended to watch Shanghai during the day on the Oriental Pearl TV Tower, and then take a cruise on the Huangpu River to see the amazing night scene at night!