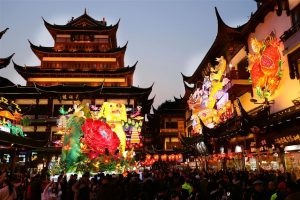 Being one of the three major temples of the Yangtze River, the Old City God Temple Hall is a large southern building with red walls and mud. Now the main building in the temple consists of the Temple Front Square, the Great Hall, the Yuanchen Hall, the Fortuna Hall, the Cihang Hall, the Chenghuang Hall and the Niangniang Hall. If you catch up with the temple fair, it will be very lively. Shanghai Old City God Temple is located in the Chenghuang Temple Tourist Area in Huangpu District. It is an important Taoist temple in Shanghai. It is a special place in the Shanghai area due to the Shanghai City Gods worshipped in the Shanghai City God Temple.
At night, the Shanghai City God Temple is crowded, and rows of temple buildings are filled with snack shops, specialty shops and some convenience stores. Some temple buildings are five or six stories high. Under surrounded by these yellow lights, the fragrance of various snacks makes people hesitate to choose the snacks to taste.
There are a lot of food in the food street, there are two layers of snack shops, which offer bamboo rice, Cantonese snacks, fried rice, etc., but some people feel that the taste is generally not so authentic in Shanghai. And do remember that don't eat full at just one snack shop, because only then can you slowly fill yourself with food and enjoy the taste buds they bring to you.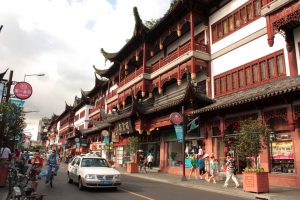 Shanghai City God Temple has been dating back more than 600 years. It has been built since the Ming Dynasty and has experienced many vicissitudes in the modern times. Many costume dramas will also mention it. The distinctive buildings are dazzling with the lighting.
Tips: opening hours for City God Temple Lunar New Year's Day: 15: 05:00-16:30; pedestrian street is open all day. Don't miss it if you like to enjoy the lively City God Temple.