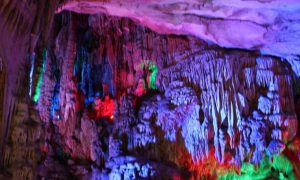 If you buy a ticket online, you must pay attention to it that you can only enter it 1 hour after the ticket is issued. The scenery inside is still pretty, but the light is very dark, which may not be good for taking pictures. It is necessary to wait for a group of tourists to gather in the cave. Then you are led by a staff member into the cave and you cannot be entered alone.
The reason why a lot of visitors choose to visit the Reed Flute Cave because it is called "National Cave" and it is located in the city. Several leaders of the foreign countries visited Guilin have visited the Reed Flute Cave, which means that it has its own characteristics. Going to Reed Flute Cave, it is still very shocking, and you will admire nature's ingenuity that let you see such a magical landscape. During the tour there, just follow the guide's explanation to slowly understand. Where there is no explanation, the children also give them the name from their imaginations.
The staff of Reed Flute Cave will recommend you taking a small train. The one-way trip costs 30 yuan. It is not recommended to buy a ticket. Because the distance is very close, which just takes around 10 minutes to climb the mountain to arrive the gate o the Reed Flute Cave.
The cave is very beautiful under the illumination of colorful lights. The two most impressive views are the harvest garden and the reflection of the snow-capped mountains. Following the guide's flashlight beam, the group members recognize the various vegetables in unison, and with the help of the top rock wall, you can watch the 3D projection of ten minutes and tell the formation process of the cave. The Reed Flute Cave is really big and shocking. And you will feel the magical power of nature all the way. And this shock is not fully expressed by the camera. It is worth your visit there.