Chinese cuisine is much more than the sickeningly sweet orange chicken and limp chow mein you may have encountered outside of China. In fact, Chinese cuisine is very diverse and varies from province to province. For example, Beijing is known for its Peking duck while Sichuan is famous for its red chili or peppercorn based dishes and Hong Kong is famous for its dim sum.
AsiaTravel has developed a new spinoff tour of our popular Gastronomic Tour with Fuchsia Dunlop that takes you to Yunnan province, one of the most geographically, ethnically, and culturally diverse regions in China which is home to a wide variety of exotic and diverse cuisines.
Yunnan cuisine provides a twist on the Chinese diet staples of rice and noodles with the use of exotic, savory spices and herbs. This region's dishes feature local accents like mint, flowers, pineapple, mushrooms, and lemongrass. We've collected some Yunnan recipes below to get your taste buds excited and introduce you to this up-and-coming, increasingly trendy cuisine.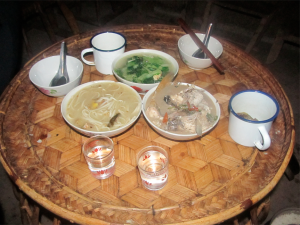 A local meal in Yunnan
Yunnan-style Soybeans
Soybeans (or edamame) are a popular snack in Asia served either shelled or peeled, depending on which part of Asia you are in. Here is a recipe for Yunnan-style soybeans that is simple but tasty – perfect for beginner chefs!
Yunnan Meal
For more advanced cooks, here is a whole Yunnan meal to try your hand at, consisting of Dai-style Ghost Chicken, Sichuan pepper oil, bean jelly, and salt-roasted broad beans.
Pineapple Sticky Rice
If you have a sweet tooth, try this healthy signature Dai minority dish.
Is your mouth watering yet? If you want to taste more of what Yunnan has to offer, check out our flavor-packed Yunnan Gastronomic Tour with Fuchsia Dunlop next October. For more info, contact us at info@wildchina.com.