The capital of Yunnan province, Kunming has served as a gateway for Southeast Asian countries for centuries and a number of the city's restaurants have been in business for nearly as long!  We've worked with Spoonhunt– an app that helps foreigners find authentic Chinese cuisine – to uncover these hidden gems sprinkled throughout Kunming.
–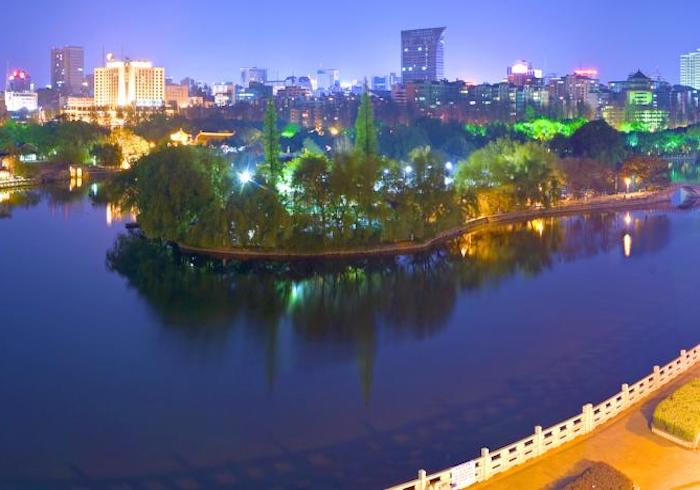 Kunming, also known as the City of Eternal Spring, has had its ups and downs as a city. First established back in 279 BC, it didn't become an official Chinese municipality until 1935. It was an important Chinese military center, American air base, and transport terminus for the Burma Road during WWII and although the city has undergone considerable development in recent years, Kunming is home to a number of restaurants have been serving delicious regional cuisine for over a century.
Here are some of our favorites.
A Trace (Dong Feng Xi Road Shop) 一颗印东风西路店
Spoonhunt ID: 1789896
Established: 1853 (163 years old)
Address: 18–19 Dong Feng Xi Road, Jixiang Alley 五华区 东风西路吉祥巷18–19号(近景星珠宝大楼东侧)
Built in the traditional architectural style of the region, this restaurant is hidden in an alley in downtown Kunming near the Flower and Bird Market. The building is two stories tall and an open-roof courtyard sits in the middle of four walls. The courtyard's high walls are designed to keep direct sunlight off you while you eat and the style is reminiscent of the aristocratic lifestyle during the Qing Dynasty.
With outdoor seating, you can take advantage of the beautiful, temperate weather in Yunnan all while enjoying classics like steamed chicken, thin sliced barbecue and baby melons. For the more adventurous eaters, try the pig trotters for a real local specialty. If you go at night, your meal will be lit by the shimmering lanterns strung up on the overarching roofs and wooden bannisters.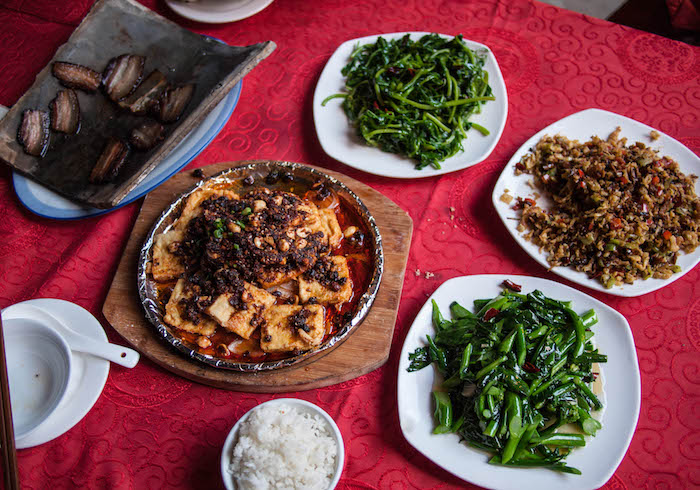 Yun He Xiang 云和祥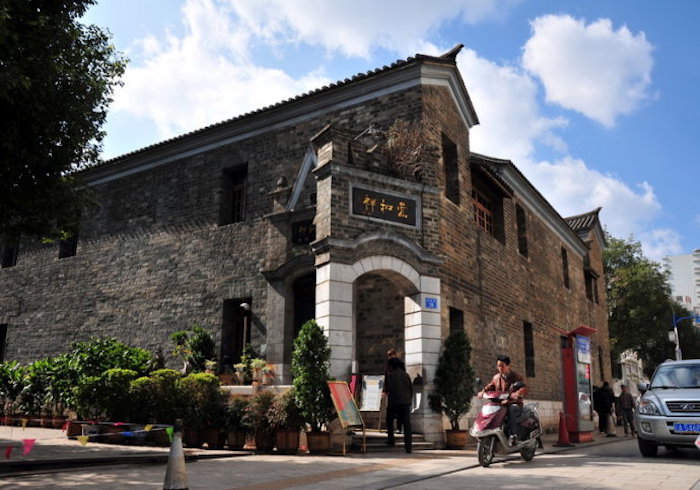 Spoonhunt ID: 1790042
Established: 1904 (112 years old)
Address: 36 Xiangyun Street, Renhe Xiang Courtyard 南屏片区 祥云街仁和祥宅院36号
While the exterior may look plain, the interior of Yun He Xiang features a bright, open dining room decorated with elegant wooden furniture. Located in the heart of Kunming, this restaurant is widely considered to be situated in the last original courtyard house in the city. Originally, the building served as a mansion for former military official Zhang Chong. Today, the restaurant serves as a fascinating glimpse into Kunming food culture.
Yun He Xiang is so popular with locals that some devoted customers eat dinner there 4-5 times a week, so it can get pretty crowded. Their entire staff is dedicated to recreating a traditional Yunnan dining experience from the service down to the food for locals and foreigners alike. Their specialties include crispy skin roast duck, Dali hot and sour fish and pagoda rice (a must-try!).
1910 South Train Station 1910火车南站
Spoonhunt ID: 1789890
Established: 1910 (106 years old)
Address: 8 Houxin Street, Nanzhan Pian District 南屏片区后新街8号
If you couldn't guess from the name, this building was originally a train station office. With many different themed decorations, including train tracks, lights and figures, you'll be fully immersed Yunnan's rail history at 1910 South Train Station. But this restaurant isn't your run-of-the-mill themed restaurant that leaves its appeal up to the décor.
This restaurant is a great place for tasty and modern Yunnan food, even with its seafoam green-painted walls. Yunnan is known for its massive variety of wild mushrooms, so you can expect lots of dishes that feature them. But you won't be limited to fungi; their specialties include Yunnan Mashed Potatoes, Ham and Mushrooms, and Spicy Beef with Corn.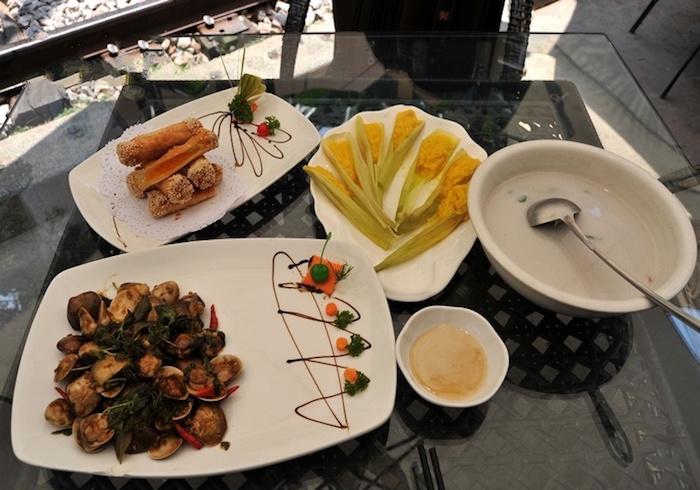 Shiping Hall 石屏会馆
Spoonhunt ID: 1789919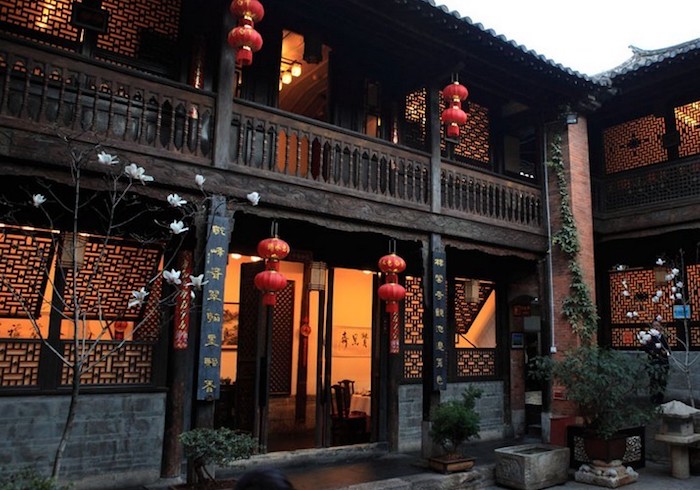 Established: 1700s (over 300 years old)
Address: 24 South Cuihu Road, Zhonghe Alley 翠湖南路中和巷24号
The oldest restaurant on this list is Shiping Hall. There is no exact date that marks its opening, but we do know this restaurant has been around for over 300 years. Located just south of Green Lake, dining in Shiping Hall makes you feel like you're in ancient China. Pictures of former emperors line the walls and if sitting in the courtyard isn't your thing, you can book a private room on the upper terrace overlooking the beautiful old-style courtyard below.
But don't be fooled by its 300+ year existence, this restaurant is up-to-date with IPad menus and reasonable prices. Locally grown Pu'Er tea leaves come with unlimited water refills the food is elegantly presented from the Shiping Potatoes and Mushrooms to the Chili Fish and Tofu.
De Yi Ju 得意居
Spoonhunt ID: 1790299
Established: 1916 (100 years old)
Address: Jinbi Road, Golden Horse Jade Chicken Pedestrian Street JB3–6–1 五华区 金碧路金马碧鸡广场步行街区JB3–6–1号(近动漫城)
De Yi Ju is the pinnacle of traditional Kunming buildings and restaurants. Established just at the end of the Qing Dynasty, this restaurant sports high wooden steps, a stone door, red interior and Qing style bricks. In the Qing Dynasty, it was used as a private kitchen for wealthy families and now, the restaurant honors its extensive history with the old pictures and stories that line the walls.
The large space can be rented out for weddings and events, but on a regular day, it serves over 120 Yunnan style dishes to its customers while they enjoy a traditional Guzheng (Chinese zither instrument) performance. All of the dining takes place in private rooms instead of at public tables to carry on the original dining experience from when it first opened its doors.
–
Want to find these restaurants in Kunming and check out all of the history these places have to offer? Download the Spoonhunt app for your phone, where you can search Chinese restaurants, see English menus and even order with the waiter! Go to www.spoonhunt.com to download the app and get writing a list of 'must-try' restaurants to show your AsiaTravel guide. If you want explore more of Yunnan than just Kunming, consider our Yunnan Gastronomic Tour with award-winning food writer Fuchsia Dunlop. Travel throughout the province and learn to shop, eat and cook like a local.