In 652 AD, Muslim traders and diplomats brought the religion of Islam to China. Today, China boasts a Muslim population of over 23 million and there are 35,000 mosques scattered throughout the vast country. Islamic influence can be found everywhere, from the bustling cities of Beijing and Shanghai to the wild western regions of Xinjiang.
Islamic architecture in China is as rich and varied as the country itself. In China's desert region of Xinjiang, mosques are built in the more traditional Middle Eastern style, with towering domes and minarets. In China's more populated east, however, mosques eschew domes in favor of a more traditional style of Chinese architecture. Symmetrically designed, eastern mosques more closely resemble buddhist Pagodas, in the hopes of blending in and winning acceptance from the native population.
From the Great Mosque in Xian through Urumqi and into remotest Xinjiang, this article will briefly introduce you to the style and varieties of Islamic architecture that await your discovery in China. On a AsiaTravel journey, you can customize your tour to swing by these fascinating relics of cultural fusion.
Xi'an – the Oldest Mosque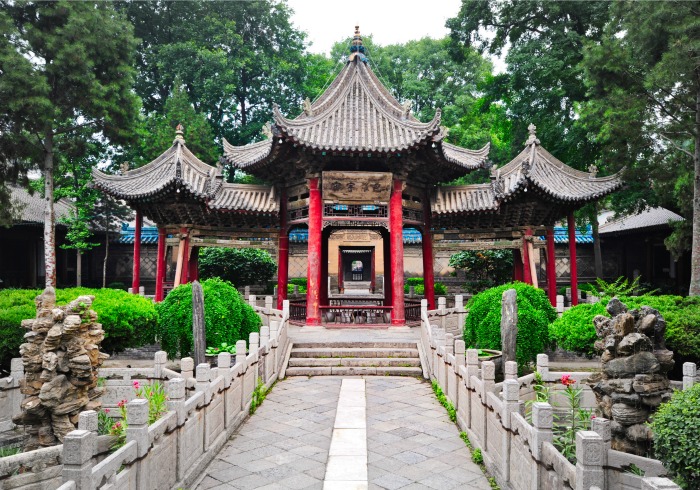 RELATED READING: 5 Best Dishes in Xi'an
Built during the Tang Dynasty in 742 AD, Xi'an's Great Mosque is the oldest in China. Constructed in the Chinese style to blend in with existing places of worship, the Great Mosque is almost devoid of the traditional features of a Middle Eastern place of worship. It has no dome, nor traditional minarets, and, aside from some Arabic decorations, little to distinguish its faith of origin.
Today the Great Mosque remains a place of worship for Xi'an's Chinese speaking Hui minority. Five times a day the Imam calls the local Muslim population to prayer and they travel from the far reaches of the city to gather on the mosque's carpeted floors. Men and women are separated in accordance with Muslim tradition. 
On a WildChia tour to Xi'an, we'll organize an exclusive audience with the Great Mosque's Imam. You'll be free to openly discuss and ask questions about this unique point in Xi'an's cultural heritage. The Muslim Quarter in Xi'an will also be a highlight where you'll discover fragrant food stalls and a lively minority culture that celebrates its Islamic heritage.
Already feeling tantalized by the idea of Muslim food? Check out our blog post about the Five Best Dishes in Xi'an. Learn more about our Xi'an tours and get started speaking with a travel designer today.
Urumqi – Where East and West Collide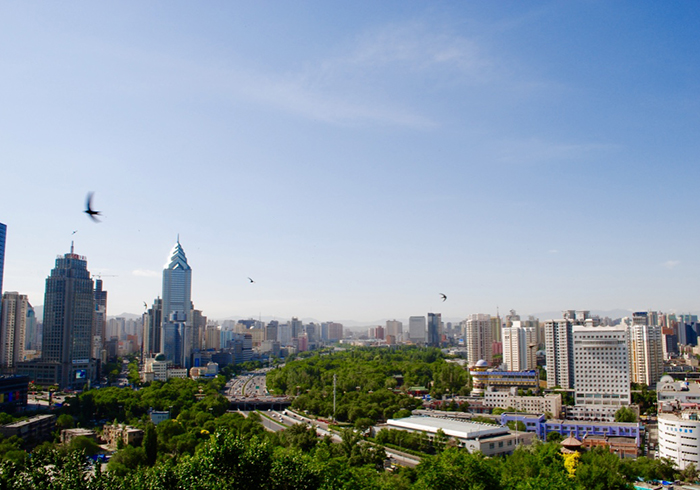 Photo credit: Alexandra Boulton
Visit Xinjiang in Northwest China, and you'll discover China's largest Islamic population. The provincial capital, Urumqi, is the biggest city in the region and also the most Chinese in style. Many of the city's mosques are built of wood and maintain the square, symmetrical structure of a pagoda. Others, like the Uighur Beytullah Mosque, are adorned with minarets and domes, not unlike those you would find further west in Saudi Arabia.
Your local AsiaTravel guide will show you around the city's mosques, giving you insider information about their history and current uses. Today Urumqi is an important land and air travel hub. Before striking out along the Silk Road to Turpan or Kashgar, be sure to visit the legendary Tarim mummies in Urumqi Museum, perhaps jaunt out to the picturesque Heavenly Lake, and get your mutton fix at one of many Central Asian-style kebab vendors. Curious about the capital of Xinjiang? Learn more about the region in our blog post: 6 Things You Didn't Know about Xinjiang. 
Turpan – The Tallest Minaret in China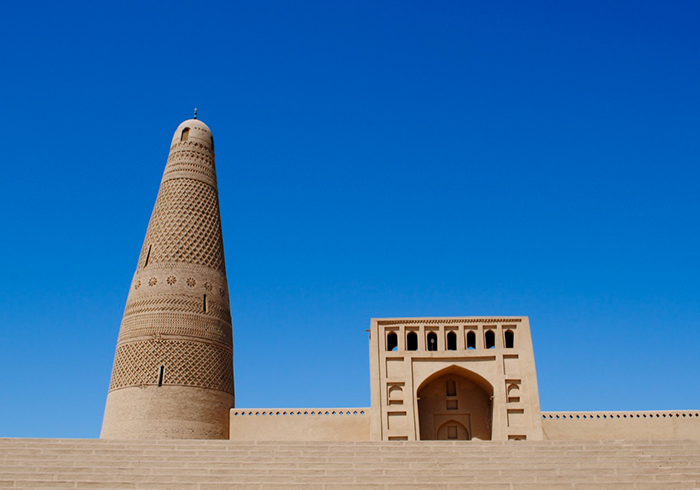 Photo credit: Alexandra Boulton
RELATED READING: Turpan: 5 Things to Do in China's Death Valley
Beside the Uighur mosque in Turpan, a township to the east of Urumqi, towers the Emin Minaret or Imin Ta. Standing at a dizzying 44 meters (144 feet) in height it is the tallest minaret in China. It was constructed in 1777, and although the emperor at the time didn't live to see it completed, the Emin Minaret stands as a monument to cooperation between Han Chinese and the native Uyghur ethnic group.
The Emin Minaret is an eye-catching blend of Chinese and Islamic architecture. On a AsiaTravel tour of Turpan, we'll arrange for you to travel by bicycle and get a real feel for the architecture, culture, and people. Get to know more about Turpan in our blog post.
Kashgar – The Largest Mosque in China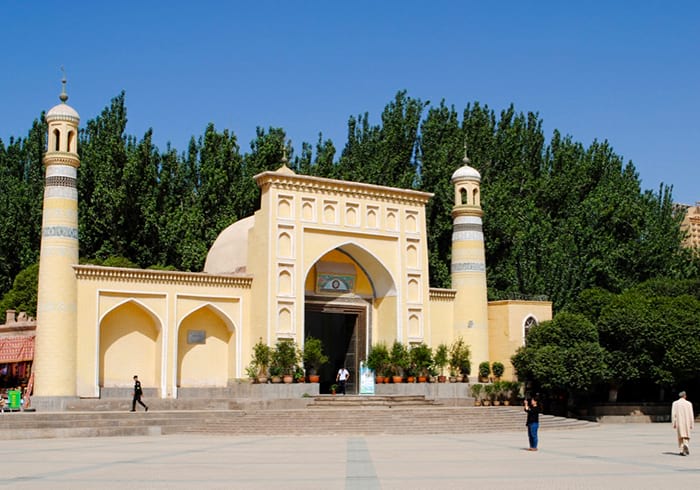 Photo credit: Alexandra Boulton
In the ancient city of Kashgar, you'll find China's biggest and busiest mosque. The Id Kah Mosque has room for as many as 20,000 worshippers. It was built in 1442 and has a long and storied history. During the Chinese civil war in the 1930s, for example, it was the site of two beheadings as various groups vied for power.
5 kilometers to the North East of Kashgar, you'll find the Afāq Khoja Mausoleum, the holiest muslim site in Xinjiang. Built in 1640, the centerpiece of the mausoleum is a giant 17 meter doom bordered by four elaborately decorated minarets.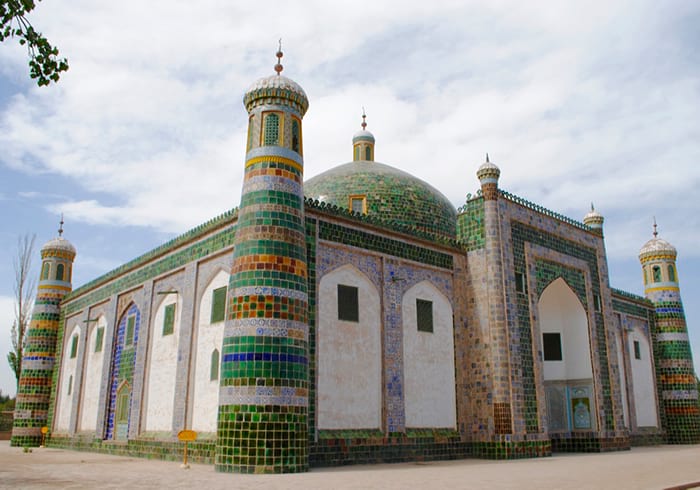 Photo credit: Alexandra Boulton
RELATED READING: 6 Things You Didn't Know about Xinjiang
Around Kashgar's vibrant streets, your AsiaTravel guide can lead you down alleyways and into private homes where you'll be able to speak to locals directly. While there, witness the art of hand-pulled noodles and try making some for yourself. You'll be surprised at the rich experiences that await just around the corner of these backroads. Get to know more about Kashgar in our Silk Road Tours: Our Insider's Guide to the Top Destinations blog post. 
Learn more about Islamic architecture here: Mosques and Islamic Identities in China
–
Many of China's Islamic sites lie along the famous Silk Road, the ancient trading route that connected China to Europe. Explore this region and follow in the footsteps of Marco Polo, as you discover some of the most storied and exotic sites in the country. Learn more about our Marco Polo's Silk Road journey.