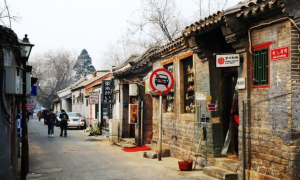 Hutong is an ancient urban alley unique to Beijing. Therefore, some people call Beijing's ancient capital culture as "hutong culture" or "four courtyard culture". People in Beijing are often not interested in the tall buildings, but the small alleys with twists and turns, and those warm and beautiful courtyards. The old Beijing Hutong Tour includes the oldest Beijing-style hutongs such as Wudaoying, Nanluoguxiang, Guozijian, and Yandai Xiejie, which are worth a visit. Sitting on the original human rickshaw, or riding a bicycle in the alley to experience the most authentic old Beijing Hutong culture, it is an interesting thing.
Time reference for visiting: 1-3 hours
Transportation: take the subway Line 2, get off at Andingmen Station, and walk about 700 meters.
Tickets: Ordinary ticket: 45 RMB from Monday-Sunday during January 1st to December 31st, including three activities: the first is to visit the studio of the famous calligrapher WeiXinMin, and the second is to take a few minutes' rickshaw to experience to the old Beijing Hutong, and the third is to watch the acrobatics of the old Beijing church.
Opening time: all the day
The Beijing Hutongs are common alley with no commercial atmosphere and people still live there. There will be clothes hanging outside the gate, and there is only one public toilet on the street, and the messy wires are wrapped around the ordinary alley under the eaves. Such an alley is not very gorgeous, but more real. After the so-called Imperial City roots culture has been removed, and the hutong exists only as a residence. This kind of hutong is more approachable.
Yangmeizhu Xiejie is an alley connecting Dashanlan and Liulichang East Street. It shoulders the most prosperous place in old Beijing. It has attracted many intellectuals and is also a famous place in the Republic of China. In front of the Shichahai, the north-south is an east-west hutong. The houses on both sides of the hutong are relatively neat. If you choose a rickshaw to travel the hutong, then this is the place where the "hutong tour" must pass.