Humble Administrator's Garden is the most famous garden in Suzhou, but the biggest problem is that there are too many people. After entering, you will find that there are too many tour groups, which adds a lot of difficulty for you to take pictures. The interesting thing is that in the garden, there is also a water vapor cooling device, and it is very feminine when wearing a Chinese costume to take pictures there.
After going deep into the garden, you will see a lot of imaginary pavilions and plaques. The layout is very delicate, and it exudes gentle vitality in the green. This is also why so many people like the Suzhou city.
Since Humble Administrator's Garden is the most famous garden in Suzhou, there will be many foreigners to visit. There is a free explanation service every half an hour in the visitor center. In the garden's west entrance, you can receive a garden tour explanation device, although you do not follow it all the time. When you stay in each attraction for a long time, you will always be able to hear the explanation, and listening to stories and knowing about the design ingenuity there is still necessary, or you will feel that Suzhou gardens are the same.
Going to the west of the garden, many wonderful pavilions are squatting, but this is also a place where tourist groups gather. It is difficult to take photos of large scenes when there are too many people, so it is necessary to catch up early.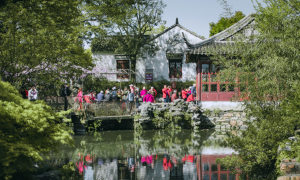 Tickets for Humble Administrator's Garden are 90 Yuan/person. It is the most expensive ticket in Suzhou. There are a lot of tickets for selling at the door by other people. It is said that they sell just 40 Yuan, but you can buy discount tickets online and show your ID card at the door to enter the garden, which is more reliable and cheaper.
Overall, Humble Administrator Garde is more refined and beautiful than the other gardens. The bonsai of the bonsai garden is really graceful and elegant, so people don't want to miss any pot. There is also Taihu Stone, with strange shape.